April Fools' Day 2023 compilation
A Disgaea dating sim, Genjitsu no Yohane side-scroller, and more.
Welcome to the 2023 edition of Gematsu's annual April Fools' Day games industry jokes and gags roundup, featuring a Disgaea dating simulation game, Genjitsu no Yohane side-scroller, new PlatinumGames Neo-Classic Arcade title, and more.
April Fools' Day 2022 | 2021 | 2020 | 2019 | 2018 | More
Find our annual roundup below. New jokes will be added as they are released.
■ Added April 1 at 9:40 p.m.
● 110 Industries – Wanted: Dead
● ATLUS West
● Bandai Namco – JoJo's Bizarre Adventure: All Star Battle R
● Bleach
A 15-minute Bleach visual novel is currently playable on the Bleach official website. (Archive link in case it is taken down after April 1.)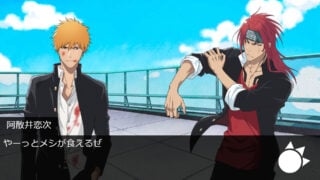 ● Cool Box Art
● Devolver Digital – Cult of the Lamb
● Dotemu
● Electronic Arts – Battlefield
● IO Interactive – HITMAN
● Sony Interactive Entertainment – Media Molecule
● Space Colony Studios – Stories from Sol: The Gun-Dog
● THQ Nordic – Gothic
● Tomato Fantasy – Dynopunk
A ray-tracing on versus off comparison video for Dynopunk.
● Ubisoft – Assassin's Creed Series
● WayForward – Mighty Switch Force
Introducing the latest entry in the Mighty Switch Force series: Mighty Switch Force: Art Inspector. Help Officer Wagon defeat the sinister rogue artificial intelligence.
● Xbox Game Studios – HALO
■ Added April 1 at 4:20 p.m.
● Askiisoft – Katana ZERO
Play the Katana ZERO reimagining Katana HERO now on PC via Steam by entering use the beta code "notthedlcbro." This is a real, full game.
● FuturLab – PowerWash Simulator
Vampire Survivors-inspired PowerWash Simulator spin-off PowerWash Survivors is coming soon. (On a related note, a real annonucement is coming soon.)
Join the bread hunt in Isonzo.
● Mane6 – Them's Fightin' Herds
New stage "Waful Haus" revealed. Coming never.
● Navigator Games – Avatar Generations
Samurai Appa and Master Momo are coming to Avatar Generations. Samurai Appa strikes with four katanas and full plate yoroi, and after the loss of his people Momo dedicated his life to the way of the sword.
● NEXON – Blue Archive
● SEGA – Phantasy Star Online 2: New Genesis
An emergency… Ristar Headline Broadcast?!
Announcing Octodad 3: Bugsnax 2.
■ Added April 1 at 1:30 p.m.
● Akukpara Games – Rain World: Downpour
Wain Wowwd: Downpor adds five new swugcats each with theiw own stowy and unique abiwities. Use those abiwities to twavewse thwough over 1000 new wooms and investigate the mystewious wowwd awound you whiwe leawning how to suwvive with the new thweatening cweatures of the wowwd.
● Bohemia Interactive – Arma
In this exciting expansion, Arma Wildlife thrusts players into a heart pounding, action-packed adventure on a beautiful mid-Atlantic island.
● Bohemia Interactive – DayZ
Watch this early showcase due to leaks.
● Corocoro – Kabuto Kuwagata
Joke trailer for Kabuto Kuwagata.
Meet the seventh Slayer of Dead Island 2, Flambo—the best choice for some fun in the HELL-A sun.
● Grimorio of Games – Sword of the Necromancer
Listen to the main theme for the game Whispike Survivors: Sword of the Necromancer. Whispike Survivors masterfully blends two game genres in vogue: reverse bullet hell and farming simulator.
● Hyperstrange – POSTAL: Brain Damaged
The latest POSTAL: Brain Damaged update fixes peeing mechanics to make the game more wholesome and inclusive.
● IGN
All your favorite The Super Mario Bros. Movie voices are coming to legacy games through Nintendo Switch Online with all new in-game dialog recorded by Chris Pratt, Jack Black, Anya Taylor-Joy, Charlie Day, Seth Rogen, and Keegan Michael Key.
● Joey Drew Studios – Bendy Series
Love is in the air and in the ink! Join all your favorite Bendy characters as they attend school as classmates and solve the strange, dark mystery that's all around them in the Switch-exclusive Bendy: Campus Crush.
● Moonsprout Games – Bug Fables: The Everlasting Sapling
Bug Fables: The Everlasting Sapling goes pay-to-vin!
● Pine Studio – Escape Simulator
Introducing the "EscapeGPT" update for Escape Simulator, which offers you the ability to solve any escape room puzzle by simply clicking a button.
● Project Moon – Limbus Company
● Raw Fury – Dome Keeper
Dome Keeper adds new "Drillbert Mode" in which you start equipped with one Drillbert and blast mining, with the possibility of getting more Drillberts as you go.
● Riot Games – VALORANT
Introducing the new "Cypher's Revenge" game mode.
● Rose City Games – Garden Story
Introducing Garden Story 64 for Nintendo 64.
● Running with Scissors – POOSTALL Royale
New title POOSTALL Royale coming soon to PC via Steam.
● WFS – Another Eden: The Cat Beyond Time and Space
Watch the music video for the song "Purrfect" by Varuo.
● Rebellion – Sniper Elite 5
The gnomes are coming.
■ Added April 1 at 1:45 a.m.
● Dolphin Emulator
Announcing Steam achievements for Dolphin Emulator. Earn achievements like "Da Warudo" (get a game to freeze and make that beeping sound upon crashing—you know the one) or "I Can't Hear You" (play for two hours without an audio backend selected).
■ Added April 1 at 1:10 a.m.
● MiHoYo – Genshin Impact
● MiHoYo – Tears of Themis
Luke, Artem, Vyn, and Marius are suddenly uncontactable! Have they fallen into traps during their investigation?
In this new 3D mode, you can now enjoy more of our beautiful Bluehole! Let yourself dive in and explore the deep sea to your heart's content. For those who are thalasso-phobic, oops! It might be a nightmare because it's more realistic than ever!
■ Added at 10:05 p.m.
● Neowiz – Brown Dust II
Introducing Love Dust.
● NetEase Games – Naraka: Bladepoint
A new weapon for you, we have. The all-new Lightsaber with amazing features is ready to add some light—and power—to your arsenal. Step into the future with today and tear your enemies down.
■ Added at 9:10 p.m.
Introducing a special device that allows you to fight against the cute kittens at home using dynamic controls.
● KRAFTON – PUBG: Battlegrounds
Ever dreamt of having superpowers? Grab your superpower using OP Coin and get ready to dominate the Battlegrounds in Bizarre Battle Royale.
● SEGA – Samba de Amigo: Party Central
Announcing Amigo the Movie, in theaters on March 8, 2038.
● Sony Interactive Entertainment Japan Asia
Come have a cheerful game life at PlayStation Academy, which opened on April 1.
● SUCCESS Corporation – Akai Ito & Aoishiro HD
SUCCESS Corporation has released a playthrough video of the Kokujou demo. Kokujou was an April Fools' Day project released in 2005. SUCCESS Corporation has republished it as a playthrough video for the sense of nostalgia it will bring to those who knew it back then, and to introduce the atmosphere of a Japanese-style adventure to those who know Akai Ito & Aoishiro HD.
■ Added at 7:15 p.m.
● Aiming – Caravan Stories
Watch the first trailer for the feature film Caravan Stories: Visitors from Space, which will premiere in theaters on November 28, 2123.
● Calappa Games – Fight Crab
Introducing the slow life farm management game Crab Farm.
● NEXON – Blue Archive
Don't miss out on the KAITEN FX Mk.0, the endlessly revolving belt due out on April 1, 2323.
● Square Enix – NieR Re[in]carnation
NieR Re[in]carnation gets the dating simulation game treatment. Reincarnation!! Welcome to Enemy Academy is coming to iOS and Android on April 1, 12024.
● Square Enix – Octopath Traveler II
Start your journey across the eight regions of Japan. Octopath Traveler and Meitetsu World Travel will make your trip feel just right.
■ Added at 3:20 p.m.
● SEGA – The Murder of Sonic the Hedgehog
■ Added at Press Time
● Aniplex – Disney Twisted-Wonderland
Watch the Magical Motors Show 2023 press conference.
● Aniplex – Fate/Grand Order
The April Fools' Day Fate/Grand Order spin-off game Fate/Grail League, a baseball RPG, is available now iOS via App Store and Android via Google Play. It will be playable until April 1 at 23:59 JST. Visit the official website here.
● Bandai Namco – Taiko no Tatsujin
The arcade version of Taiko no Tatsujin will add the new mode "Aoharu no Tatsujin" on April 1, 2765. Raise your friendship level with familiar characters and get rewards!
● Broccoli – Uta no Prince-sama
Announcing the Uta no Prince-sama girl idols spin-off project Uta no Princes-sama: Back to the Idol. Visit the official website here. A Twitter account and YouTube channel is also available.
Watch a set of music videos below.
—"Flower Candy" by Back to the Heart
—"Silent Queen" by First Promise
● Cluster – Ahh VR
Announcing Ahh VR, a virtual reality game peripheral that feeds you. It will launch on April 1, 2123 for 41,414,141 yen. Visit the official website here.
● Cygames – Princess Connect! Re: Dive
The Princess Connect! Re: Dive spin-off auto battler game Princess Connect! Grand Masters, which first launched for a limited time for April Fools' Day 2022, is now available for download once again for iOS via App Store and Android via Google Play. It will only be available until April 10.
—Gameplay Trailer
—New Unit: Sheffy
—New Unit: Yuni
—New Unit: Chloe
—New Unit: Chieru
● Cygames – Uma Musume: Pretty Derby
To spread the beauty of wearing hats with the world, the horse girls of Uma Musume: Pretty Derby have formed the group "BoC'z" (pronounced "boushis"—or "hats"). Visit their official website here.
—Music Video: "Hat on your Head!" by BoC'z
● FuRyu – CRYMACHINA
CRYMACHINA's Enoa hosts a Hanamaru ASMR live stream. Visit the official homepage here.
● Gaijin Entertainment – Enlisted
Publisher Gaijin Entertainment and developer Darkflow Software have announced the release of the "Titan Rise" update for the online military action game Enlisted. Walking tanks are now joining the Enlisted arsenal of interesting and authentic weapons and gear typical for World War II. These powerful vehicles are ideally suited to support infantry both in urban environments and on rough terrain.
● Gaijin Entertainment – War Thunder
Gaijin Entertainment has announced that the online action game War Thunder will be getting the Soviet robots tech tree. These machines will be carefully recreated using unique documents provided by the developer of the Atomic Heart shooter game.
Additionally, the classic War Thunder (MMO) experience which began in the air and then added sea and land vehicles, is now adding mobile boots on the ground.
● Imagineer – Medabots S
The opening movie of Medabots S has been changed to pay tribute to the Game Boy Advance title Medabots Navi.
● Love Live! – Genjitsu no Yohane: Sunshine in the Mirror
Announcing Genjitsu no Yohane: The Game.
● Neople – Dungeon Fighter Online
Introducing the sixth member of the band Harmony, who plays the recorder.
● Netmarble – Ni no Kuni: Cross Worlds
The heartful MMORPG Yamashita no Kuni: Fool Worlds, which is currently in development, debuts its first trailer and teaser website.
● Nippon Ichi Software – Disgaea 7: Vows of the Virtueless
Nippon Ichi Software has announced Makai no Prince-sama, a romance visual novel in which you can enjoy a heart-pounding "Disgaea Academy" school life with the protagonists of the strategy RPG series Disgaea. It will launch on January 30, 200000002003. Visit the official website here.
A Twitter campaign, titled "Who to Date!? I Choose This Guy!," will run from now until April 1 at 23:59 JST. To participate, follow the Twitter account @nis_prinny, vote for the character you want to date on the official website, then tweet your results to complete the application. One winner will receive a copy of Disgaea 7: Vows of the Virtueless. Campaign application terms are available here.
—Screenshots
● Opera GX
X-to-the-Z Xzibit shows you how to pimp your browser with Opera GX, the "only browser designed for gamers."
● PlatinumGames – Dungeon Fighter Online
PlatinumGames has debuted the first gameplay footage of the latest title in its Neo-Classic Arcade series, tentatively titled Cutie Pt, on its "Happy-Go-Lucky Underground Radio" program. It is a "spectacular side-scrolling action" game starring PlatinumGames' digital lifeform character Shirogane Pt.
"Happy-Go-Lucky Underground Radio" also has her own set of LINE messenger stamps, which are now available for purchase.
● SEGA – Sonic the Hedgehog
The April edition of "Weekly Hedgehog" magazine is now available, featuring headlines such as, "Big the Cat is a Mafia Don!?," "Cryptocurrency Eggcoin Crashes," and other exclusive scoops.
● SEGA – Super Monkey Ball
Introducing Super Yankee Ball!
● Square Enix – Dragon Quest
From now on, the official Japanese abbreviation of Dragon Quest in Japan is no longer "DraQue." By popular demand from the fans, it is now "Gonst"!
● THANKO – Adventures of THANKO
Japanese gadgets company THANKO has launched its 2,000th anniversary website. The history section of the website shows that the company released the game Adventures of THANKO for Game Boy in 1990, which can now be played for free in your web browser. (THANKO was founded on June 26, 2003—not 2,000 years ago—and never released a Game Boy game called Adventures of THANKO.)
● Wizards of the Coast – Magic: The Gathering (Japan)
Magic: The Gathering is actually a 300 year old game that began in the Edo era of Japan. Visit the 300th anniversary website here.
● WFS – Is It Wrong to Try to Pick Up Girls in a Dungeon? Memoria Freese
Is It Wrong to Try to Pick Up Girls in a Dungeon? Memoria Freese has been rebranded into the dating simulation game Dungeon Memorial: Sing for Me My Wolf. You're Dungeon Academy Pop Star Department's producer, and it's your job to help four pop stars get their star power back! Visit the official website here.
—Theme Song: "Shiny World" sung by Bete Loga (voiced by Nobuhiko Okamoto)