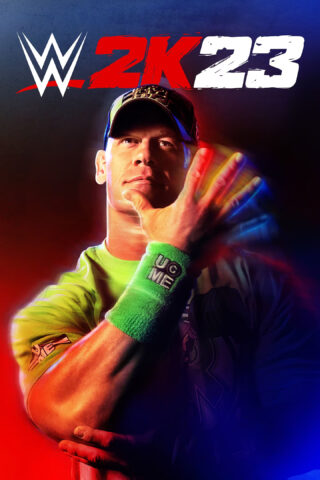 WWE 2K23
WWE 2K23 is a sports video game developed by Visual Concepts and published by 2K.
About
WWE 2K23 features several franchise advancements, including a unique new take on the 2K Showcase, the WWE 2K introduction of the fan-favorite WarGames, and expansions to several marquee game modes. In addition, fans can also look forward to a deep roster of WWE Superstars and Legends including Roman Reigns, "American Nightmare" Cody Rhodes, Ronda Rousey, Brock Lesnar, "Stone Cold" Steve Austin, and more. Incredibly realistic graphics, animations, camera angles and lighting, plus accessible controls and a new optional pinning mechanic will add to the highly immersive experience.
Key Features
WWE 2K23 features several hallmarks of the franchise, as well some new additions and twists on fan favorites:
2K Showcase Starring John Cena – Conquering John Cena in the ring is an accolade few Superstars can claim. In an unprecedented twist on the 2K Showcase, players will step into the boots of several of Cena's toughest competitors with one goal in mind: defeat the man who will "Never Give Up." Spanning his 20-year WWE career and narrated by Cena himself, this interactive sports entertainment documentary uses 2K's unique Slingshot Tech for a seamless transition from gameplay to live-action footage to bring pivotal moments in each match to life.
WarGames – The fan-favorite, chaotic and action-packed WarGames makes its debut in WWE 2K23 and delivers heart-pounding three-versus-three and four-versus-four single-player or multiplayer mayhem inside two side-by-side rings, surrounded by a double-steel cage.
MyGM – Now featuring more GMs to choose from—or a player's own custom GM creation—as well as additional show options, multiple seasons, expanded match cards, and more match types for up to four players. Players draft a roster, manage budgets, sign free agents, choose various match types, arena locations, production elements, and more, with the goal of beating a rival GM in weekly ratings battles.
MyFACTION – Now featuring online multiplayer action, the team-building mode in which players collect, manage, and upgrade an array of WWE Superstars and Legends to create their ultimate four-person factions returns. Players can now take their faction online and compete for global dominance, or compete in Weekly Towers and Faction Wars, while new themed card packs and goals roll out regularly throughout the year.
MyRISE – Aspiring Superstars walk through the curtain for their WWE debut in MyRISE and shape their career with the decisions made along the way. Featuring distinct men's and women's division storylines and the ability to import custom created Superstars, players journey from the humble beginnings of a Rookie, to being immortalized as a WWE Legend.
Universe – The ultimate WWE Universe sandbox that puts players in charge of their own version of WWE, from Superstar rosters, feuds, champions, weekly shows, and Premium Live Events! Updates to Universe include a reworked story system and more.
Creation Suite – A signature feature of the WWE 2K franchise, the creation suite returns with cross-platform community creations, including the ability to design custom Superstars, GMs, arenas, entrances, move sets, championships and more. Custom arenas are now playable online, and advanced customization has been added to created entrances.
WWE 2K23 News
Publisher 2K and developer Visual COncepts have officially announced WWE 2K23 for PlayStation 5, Xbox …