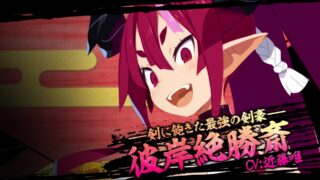 Nippon Ichi Software has released the seventh character trailer for Disgaea 7, which introduces Higan Zesshousai (voiced by Yui Kondou).
Here is a description of Higan Zesshousai, via our previous coverage:
A woman with the title "Zesshousai," which is awarded to the strongest swordsman in Hinomoto. She is Fuji's master who taught him the way of the sword. According to Fuji, "She is the strongest, evilest swordswoman in Hinomoto."

She got tired of being too strong when fighting with a sword, so she is now in the process of mastering the spear.

She is arrogant and unmannerly, and simply loves fighting. If you get in between her and a fight, she will go berserk and will not settle down until you feed her delicious sweets.
Previous character trailers introduced protagonist Fuji, Piririka, Wey-yasu, Seefour, Suisen, and Ao.
Disgaea 7 is due out for PlayStation 5, PlayStation 4, and Switch on January 26, 2023 in Japan. A demo is available now. Read more about the game here, here, here, here, here, and here.
Watch the trailer below.
Higan Zesshousai Trailer