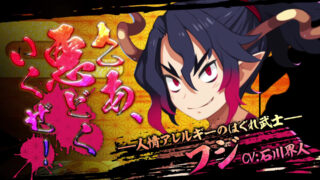 Nippon Ichi Software has released the first video in a series of Disgaea 7's character trailers. The first introduces Fuji (voiced by Kaito Ishikawa).
Here is a description of Fuji, via our previous coverage:
A triple threat of demon, cheap, and lazy, he is a demon with a devilish personality rarely seen in Hinomoto, which is rooted in the way of Bushido.

He was taught how to fight on the battlefield at a young age, and with the motto "If you win, you're a hero; If you lose, you're a servant," he will do anything to win, whether that means a surprise attack or foul play.

He has a self-diagnosed allergy to human-like expressions, and has to cough up blood whenever he feels human emotions like love, friendship, and sympathy.
And here is the full schedule of upcoming character trailer releases:
January 11 – Piririka
January 13 – Wey-yasu
January 16 – Seefour
January 18 – Suisen
January 20 – Ao
January 23 – Higan Zesshousai
Disgaea 7 is due out for PlayStation 5, PlayStation 4, and Switch on January 26, 2023 in Japan. Read more about the game here, here, here, here, and here.
Watch the trailer below.
Fuji Trailer