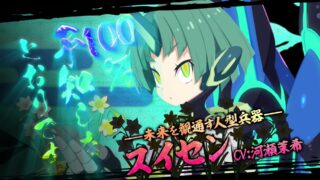 Nippon Ichi Software has released the fifth character trailer for Disgaea 7, which introduces Suisen (voiced by Maki Kawase).
Here is a description of Suisen, via our previous coverage:
A boy with a mechanical body, he is the "Clairvoyant Magistrate," one of the "13 Magistrates" of the Shogunate. He stands in the way of Fuji and company, who are on a journey to overthrow the Shogunate.

While he may look young, he is a self-aware biological weapon with high combat power. With his high information processing power, he fights by predicting the future based on gathered information.

He usually speaks in a plain, robotic tone, but sometimes speaks as childishly as he looks.
Previous character trailers introduced protagonist Fuji, Piririka, Wey-yasu, and Seefour.
Disgaea 7 is due out for PlayStation 5, PlayStation 4, and Switch on January 26, 2023 in Japan. A demo is available now. Read more about the game here, here, here, here, and here.
Watch the trailer below.
Suisen Trailer