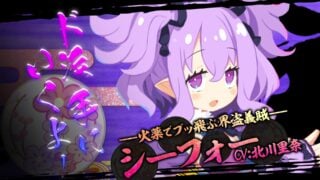 Nippon Ichi Software has released the fourth character trailer for Disgaea 7, which introduces Seefour (voiced by Rina Kitagawa).
Here is a description of Seefour, via our previous coverage:
A phantom thief whose name is known in Hinomoto Netherworld. She only steals from those connected to the Shogunate, and is popular among the people as the "Phantom Thief Mouse ★ Girl."

While she usually has a careless air about her, she is a gunpowder and arms freak who becomes a different person when she sees weapons or explosions—or gets a whiff of gunpowder. If she goes too long without smelling gunpowder, she will start to feel under the weather.

She seems to be collecting "Netherworld Sacred Treasures," weapons unique to Hinomoto Netherworld Cluster, for research purposes…
Previous character trailers introduced protagonist Fuji, Piririka, and Wey-yasu.
Disgaea 7 is due out for PlayStation 5, PlayStation 4, and Switch on January 26, 2023 in Japan. A demo is available now. Read more about the game here, here, here, here, and here.
Watch the trailer below.
Seefour Trailer