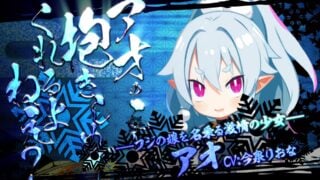 Nippon Ichi Software has released the sixth character trailer for Disgaea 7, which introduces Ao (voiced by Riona Imaizumi).
Here is a description of Ao, via our previous coverage:
A young-looking girl who fondly refers to Fuji as "father." She is wanted as "Hyougaki" for the destructive actions she has carried out "for father's sake" throughout Hinomoto.

She has a strong desire for affection from Fuji and appeals for his attention everywhere she goes.

While she behaves like a spoiled child when it comes to Fuji, she shows no mercy to everyone else, and will chaotically destroy anyone who gets in her way with overwhelming power.
Previous character trailers introduced protagonist Fuji, Piririka, Wey-yasu, Seefour, and Suisen.
Disgaea 7 is due out for PlayStation 5, PlayStation 4, and Switch on January 26, 2023 in Japan. A demo is available now. Read more about the game here, here, here, here, here, and here.
Watch the trailer below.
Ao Trailer