The King of Fighters XV confirmed for PS5, Xbox Series, PS4, and PC
Fighting game sequel set for multiplatform release.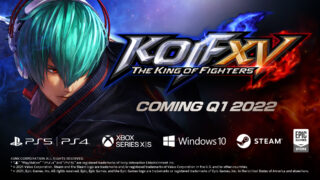 The King of Fighters XV will be available for PlayStation 5, Xbox Series, PlayStation 4, and PC via Steam, Epic Games Store, and Microsoft Store when it launches in Q1 2022, developer SNK announced. Koch Media will handle global publishing duties.
"We are delighted to be working again with SNK and excited to support them with our local publishing offices around the world," said Koch Media director of global partner publishing Stephan Schmidt in a press release. "It is particularly thrilling to be able to work on such a legendary fighting game franchise. I'm convinced that we'll achieve great things together for the digital and physical release of this title."
SNK chief producer Yasuyuki Oda added, "We are very pleased to work again with our overseas publishing partner, Koch Media. Through Koch Media's global network, I believe we can achieve fantastic results by spreading the appeal of The King of Fighters to game fans all around the world."
If you missed them, SNK has been releasing a steady flow of character trailers since January. So far, the developer has introduced Vanessa, Luong, Blue Mary, Ralf Jones, Clark Still, Leona Heidern, Ryo Sakazaki, Robert Garcia, Chris, Shermie, Mai Shiranui, King, Yashiro Nanakase, Terry Bogard, Yuri Sakazaki, Andy Bogard, Chizuru Kagura, Kyo Kusanagi, Joe Higashi, Iori Yagami, Benimaru Nikaido, Meitenkun, and Shun'ei.