The King of Fighters XV Athena Asamiya trailer, screenshots
The Psychic Powered Idol.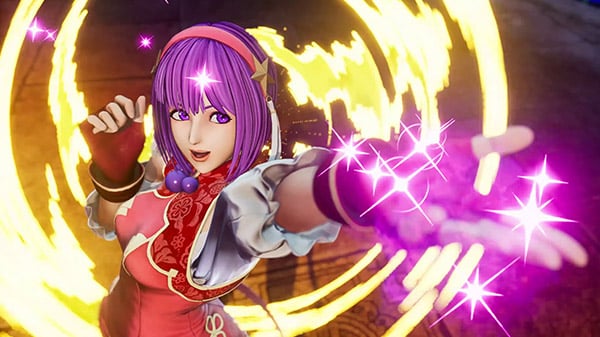 SNK has released a new trailer and screenshots for The King of Fighters XV introducing playable character Athena Asamiya (voiced by Haruna Ikezawa).
Athena Asamiya and the previously revealed Mai Shiranui and Yuri Sakazaki make up the game's eighth fully revealed team, "Team Super Heroine." Here is each character's official description:
Athena Asamiya – Athena is a high-school pop idol fighting evil to bring about world peace. Her fighting style is composed of the psychic powers she was born with and Chinese Kung Fu. She is a hard worker, both polite and serious. However, this KOF she's unexpectedly teamed up with Mai and Yuri…?
Mai Shiranui – Mai is a kunoichi and successor of the Shiranui style of ninja arts. Her opponents are at the mercy of her graceful movements and fascinating attire. Using large fans as weapons, her fighting style is to "float like a butterfly, sting like a bee."
Yuri Sakazaki – Ryo Sakazaki's younger sister managed to learn deadly techniques in less than one year after joining the Kyokugenryu Dojo. As a fighting genius, Yuri has brought her own personal touch to the martial art. She joins this KOF to once and for all prove her strength to her brother.
Previous character trailers introduced King of Dinosaurs, Ramon, Vanessa, Luong, Blue Mary, Ralf Jones, Clark Still, Leona Heidern, Ryo Sakazaki, Robert Garcia, Chris, Shermie, Mai Shiranui, King, Yashiro Nanakase, Terry Bogard, Yuri Sakazaki, Andy Bogard, Chizuru Kagura, Kyo Kusanagi, Joe Higashi, Iori Yagami, Benimaru Nikaido, Meitenkun, and Shun'ei.
The King of Fighters XV is due out for PlayStation 5, Xbox Series, PlayStation 4, and PC via Steam, Epic Games Store, and Microsoft Store in Q1 2022. Read more about the game here.
Watch the trailer below. View the screenshots at the gallery.