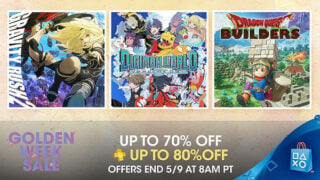 Golden Week has begun in Japan, and Sony Interactive Entertainment America is running its annual Golden Week sale until May 9 at 8:00 a.m. PT.
Titles on sale include Catherine, Gravity Rush 2, Digimon World: Next Order, Dragon Quest Builders, Steins;Gate, and more.
Get the full list of sales below, via the PlayStation Blog. Visit the Golden Week sales page at the PlayStation Store here.
| Platform | Title | Sale Price | PS Plus Price | Original Price |
| --- | --- | --- | --- | --- |
| PS4 | ADK Tamashii (PS2) | $10.49 | $8.99 | $14.99 |
| PS4 | Assault Suit Leynos | $9.99 | $7.99 | $19.99 |
| PS4 | Astebreed | $11.99 | $9.99 | $19.99 |
| PS4 | Atelier Sophie: The Alchemist of the Mysterious Book | $35.99 | $23.99 | $59.99 |
| PS4 | Bladestorm: Nightmare | $35.99 | $23.99 | $59.99 |
| PS4 | BlazBlue: Central Fiction | $29.99 | $23.99 | $59.99 |
| PS4 | BlazBlue: Chrono Phantasma Extend | $24.99 | $14.99 | $49.99 |
| PS4 | Blue Rider | $5.99 | $3.99 | $9.99 |
| PS4 | Chambara | $5.99 | $3.99 | $9.99 |
| PS4 | Chronicles of Teddy: Harmony of Exidus | $5.99 | $4.49 | $14.99 |
| PS4 | Croixleur Sigma (Cross-Buy) | $10.49 | $8.99 | $14.99 |
| PS4 | Crypt of the Necrodancer (Cross-Buy) | $5.24 | $3.74 | $14.99 |
| PS4 | Dead or Alive 5: Last Round | $23.99 | $15.99 | $39.99 |
| PS4 | Deception IV: The Nightmare Princess | $29.99 | $19.99 | $49.99 |
| PS4 | Digimon Story: Cyber Sleuth | $29.99 | $23.99 | $59.99 |
| PS4 | Digimon World: Next Order | $41.99 | $38.99 | $59.99 |
| PS4 | Dragon Ball Xenoverse | $15.99 | $11.99 | $39.99 |
| PS4 | Dragon Ball Xenoverse + Season Pass Bundle | $25.99 | $19.49 | $64.99 |
| PS4 | Dragon Ball Xenoverse 2 | $41.99 | $35.99 | $59.99 |
| PS4 | Dragon Ball Xenoverse 2: Deluxe Edition | $62.99 | $53.99 | $89.99 |
| PS4 | Dragon Ball Xenoverse Super Bundle | $59.49 | $50.99 | $84.99 |
| PS4 | Dragon Quest Builders | $41.99 | $35.99 | $59.99 |
| PS4 | Dragon Quest Heroes: The World Tree's Woe And The Blight Below Digital Slime Edition | $25.79 | $21.49 | $42.99 |
| PS4 | Dragon Quest Heroes: The World Tree's Woe And The Blight Below | $23.99 | $19.99 | $39.99 |
| PS4 | Dynasty Warriors 8: Empires | $29.99 | $19.99 | $49.99 |
| PS4 | Dynasty Warriors 8: Xtreme Legends Complete Edition | $35.99 | $23.99 | $59.99 |
| PS4 | Earth's Dawn | $20.99 | $17.99 | $29.99 |
| PS4 | Exist Archive: The Other Side of the Sky | $29.99 | $17.99 | $59.99 |
| PS4 | Fairy Fencer F: Advent Dark Force | $14.99 | $9.99 | $49.99 |
| PS4 | Fate/EXTELLA: The Umbral Star | $34.99 | $29.99 | $49.99 |
| PS4 | Final Fantasy XV | $41.99 | $35.99 | $59.99 |
| PS4 | Final Fantasy XV Digital Premium Edition | $59.49 | $50.99 | $84.99 |
| PS4 | Furi | $12.99 | $10.99 | $19.99 |
| PS4 | FUUUN Super Combo (PS2) | $8.99 | $7.49 | $14.99 |
| PS4 | Gal Gun: Double Peace | $29.99 | $23.99 | $59.99 |
| PS4 | Galak-Z | $7.99 | $4.99 | $19.99 |
| PS4 | Garou: Mark Of The Wolves | $5.49 | $4.39 | $0.00 |
| PS4 | God Eater 2: Rage Burst | $26.99 | $20.99 | $59.99 |
| PS4 | Gravity Rush 2 | $41.99 | $35.99 | $59.99 |
| PS4 | Gravity Rush Remastered | $17.99 | $14.99 | $29.99 |
| PS4 | I Am Setsuna | $27.99 | $23.99 | $39.99 |
| PS4 | Legend of Kay Anniversary | $11.99 | $8.99 | $29.99 |
| PS4 | Megadimension Neptunia VII | $15.99 | $11.99 | $39.99 |
| PS4 | Mitsurugi Kamui Hikae | $8.39 | $7.19 | $11.99 |
| PS4 | Naruto Shippuden: Ultimate Ninja Storm 4 | $23.99 | $17.99 | $59.99 |
| PS4 | Naruto Shippuden: Ultimate Ninja Storm 4 Road To Boruto | $42.49 | $37.49 | $49.99 |
| PS4 | NieR: Automata Day One Edition | $44.99 | $41.99 | $59.99 |
| PS4 | Nights of Azure | $35.99 | $23.99 | $59.99 |
| PS4 | Ninja Senki DX (Cross-Buy) | $1.99 | $0.99 | $4.99 |
| PS4 | Oceanhorn: Monster of Uncharted Seas | $8.99 | $7.49 | $14.99 |
| PS4 | Odin Sphere Leifthrasir | $35.99 | $29.99 | $59.99 |
| PS4 | Omega Quintet | $8.99 | $5.99 | $29.99 |
| PS4 | Prismatic Solid | $5.99 | $4.99 | $9.99 |
| PS4 | Rainbow Moon | $5.99 | $4.49 | $14.99 |
| PS4 | RIVE | $8.99 | $7.49 | $14.99 |
| PS4 | Root Letter | $29.99 | $23.99 | $59.99 |
| PS4 | Saint Seiya: Soldiers' Soul | $20.99 | $14.99 | $59.99 |
| PS4 | Samurai Shodown VI (PS2) | $8.99 | $7.49 | $14.99 |
| PS4 | Samurai Warriors 4: Empires | $29.99 | $19.99 | $49.99 |
| PS4 | Senran Kagura: Estival Versus | $21.99 | $17.99 | $39.99 |
| PS4 | Star Ocean: Integrity and Faithlessness | $35.99 | $29.99 | $59.99 |
| PS4 | Steins;Gate 0 | $29.99 | $23.99 | $59.99 |
| PS4 | Sword Art Online: Hollow Realization | $41.99 | $35.99 | $59.99 |
| PS4 | Sword Art Online: Hollow Realization Deluxe Edition | $59.49 | $50.99 | $84.99 |
| PS4 | Sword Art Online: Lost Song | $17.99 | $11.99 | $59.99 |
| PS4 | Tales of Berseria | $41.99 | $38.99 | $59.99 |
| PS4 | Tales of Zestiria | $20.99 | $14.99 | $59.99 |
| PS4 | The King of Fighters XIV | $41.99 | $35.99 | $59.99 |
| PS4 | The Last Blade 2 (Cross-Buy) | $7.49 | $5.99 | $14.99 |
| PS4 | The Legend of Korra | $7.49 | $4.94 | $14.99 |
| PS4 | Torquel (Cross-Buy) | $4.99 | $3.99 | $9.99 |
| PS4 | Transformers Devastation | $17.99 | $13.99 | $39.99 |
| PS4 | Valkyria Chronicles Remastered | $20.99 | $17.99 | $29.99 |
| PS4 | Volume | $6.99 | $4.99 | $19.99 |
| PS4 | Wild Guns: Reloaded | $19.49 | $16.49 | $29.99 |
| PS3 | Aquapazza | $14.99 | $11.99 | $29.99 |
| PS3 | Arcana Heart 3: Lovemax!!!!! | $7.49 | $4.99 | $24.99 |
| PS3 | Armored Core (PSone Classic) | $1.79 | $1.19 | $5.99 |
| PS3 | Battle Fantasia | $4.99 | $2.99 | $9.99 |
| PS3 | BlazBlue: Central Fiction | $24.99 | $19.99 | $49.99 |
| PS3 | Capcom Arcade Cabinet: 1985-I Pack | $4.99 | $3.99 | $9.99 |
| PS3 | Capcom Arcade Cabinet: 1985-II Pack | $4.99 | $3.99 | $9.99 |
| PS3 | Capcom Arcade Cabinet | $10.49 | $7.49 | $29.99 |
| PS3 | Capcom vs. SNK 2: Mark Of The Millennium 2001 (PS2 Classic) | $3.49 | $2.49 | $9.99 |
| PS3 | Catherine | $6.99 | $4.99 | $19.99 |
| PS3 | Dragon's Crown | $17.99 | $14.99 | $29.99 |
| PS3 | Final Fight: Double Impact | $3.49 | $2.49 | $9.99 |
| PS3 | Gradius V (PS2 Classic) | $2.99 | $1.99 | $9.99 |
| PS3 | Hakuoki: Stories of the Shinsengumi | $9.99 | $7.99 | $19.99 |
| PS3 | Lost Dimension | $14.99 | $11.99 | $29.99 |
| PS3 | Mamorokun Curse! | $1.99 | $1.49 | $4.99 |
| PS3 | Mega Man Legends (Psone Classic) | $2.99 | $1.99 | $9.99 |
| PS3 | Mega Man 8 (Psone Classic) | $1.79 | $1.19 | $5.99 |
| PS3 | Odin Sphere Leifthrasir | $32.49 | $27.49 | $49.99 |
| PS3 | Raiden IV: Overkill | $5.99 | $4.49 | $14.99 |
| PS3 | Rainbow Moon | $5.99 | $4.49 | $14.99 |
| PS3 | Record of Agarest Series War Bundle | $19.99 | $11.99 | $39.99 |
| PS3 | Record of Agarest War | $4.99 | $2.99 | $9.99 |
| PS3 | Record of Agarest War 2 | $9.99 | $5.99 | $19.99 |
| PS3 | Record of Agarest War Zero | $7.49 | $4.49 | $14.99 |
| PS3 | Rune Factory: Tides of Destiny | $14.99 | $8.99 | $29.99 |
| PS3 | Soldner-x 2: Final Prototype Complete Bundle | $3.89 | $2.59 | $12.99 |
| PS3 | Soldner-x: Himmelssturmer | $1.59 | $0.79 | $7.99 |
| PS3 | Steins;Gate | $4.99 | $2.99 | $19.99 |
| PS3 | Suikoden 3 (PS2 Classic) | $3.49 | $2.49 | $9.99 |
| PS3 | Suikoden II (Psone Classic) | $2.99 | $1.99 | $9.99 |
| PS3 | Super Puzzle Fighter II Turbo HD Remix | $3.49 | $2.49 | $9.99 |
| PS3 | Super Street Fighter II Turbo HD Remix | $3.49 | $2.49 | $9.99 |
| PS3 | Tecmo's Deception: Invitation To Darkness (Psone Classic) | $2.99 | $2.39 | $5.99 |
| PS3 | The Legend of Heroes: Trails Of Cold Steel | $21.99 | $17.99 | $39.99 |
| PS3 | The Legend of Korra | $7.49 | $4.94 | $14.99 |
| PS3 | The Misadventures of Tron Bonne (Psone Classic) | $2.39 | $1.79 | $5.99 |
| PS3 | Tokyo Twilight Ghost Hunters Daybreak: Special Gigs | $19.99 | $11.99 | $39.99 |
| PS3 | Transformers Devastation | $19.99 | $9.99 | $39.99 |
| PS Vita | Aegis of Earth: Protonovus Assault | $11.99 | $8.99 | $29.99 |
| PS Vita | Amnesia: Memories | $5.99 | $2.99 | $29.99 |
| PS Vita | Arcana Heart 3: Lovemax!!!!! | $7.49 | $4.99 | $24.99 |
| PS Vita | Atelier Escha & Logy Plus: Alchemists of the Dusk Sky | $23.99 | $15.99 | $39.99 |
| PS Vita | Atelier Sophie: The Alchemist of the Mysterious Book | $23.99 | $15.99 | $39.99 |
| PS Vita | BlazBlue: Chrono Phantasma Extend | $19.99 | $11.99 | $39.99 |
| PS Vita | Code: Realize ~Guardian Of Rebirth~td> | $19.99 | $11.99 | $39.99 |
| PS Vita | Croixleur Sigma (Cross-Buy) | $10.49 | $8.99 | $14.99 |
| PS Vita | Crypt of the Necrodancer (Cross-Buy) | $5.24 | $3.74 | $14.99 |
| PS Vita | Deception IV: The Nightmare Princess | $23.99 | $15.99 | $39.99 |
| PS Vita | Dragon Quest Builders | $27.99 | $23.99 | $39.99 |
| PS Vita | Dragon's Crown | $17.99 | $14.99 | $29.99 |
| PS Vita | Dungeon Travelers 2: The Royal Library & The Monster Seal | $14.99 | $11.99 | $29.99 |
| PS Vita | Exist Archive: The Other Side of the Sky | $19.99 | $11.99 | $39.99 |
| PS Vita | Fate/EXTELLA: The Umbral Star | $27.99 | $23.99 | $39.99 |
| PS Vita | Gal Gun: Double Peace | $19.99 | $15.99 | $39.99 |
| PS Vita | Hyperdimension Neptunia U: Action Unleashed | $8.99 | $5.99 | $29.99 |
| PS Vita | Let's Fish! Hooked On | $3.19 | $1.59 | $7.99 |
| PS Vita | Lost Dimension | $14.99 | $11.99 | $29.99 |
| PS Vita | Megatagmension Blanc + Neptune VS Zombies | $11.99 | $8.99 | $29.99 |
| PS Vita | MeiQ: Labyrinth of Death | $5.99 | $2.99 | $29.99 |
| PS Vita | Mind/Zero | $12.49 | $7.49 | $24.99 |
| PS Vita | Muramasa Rebirth Complete Collection | $17.49 | $10.49 | $34.99 |
| PS Vita | Ninja Senki DX (Cross-Buy) | $1.99 | $0.99 | $4.99 |
| PS Vita | Norn9: Var Commons | $19.99 | $11.99 | $39.99 |
| PS Vita | Odin Sphere Leifthrasir | $25.99 | $21.99 | $39.99 |
| PS Vita | Oreshika: Tainted Bloodlines | $9.99 | $7.99 | $19.99 |
| PS Vita | Persona 4: Dancing All Night | $27.99 | $23.99 | $39.99 |
| PS Vita | Persona 4 Golden | $11.99 | $8.99 | $29.99 |
| PS Vita | Rainbow Moon | $5.99 | $4.49 | $14.99 |
| PS Vita | Senran Kagura: Estival Versus | $16.49 | $13.49 | $29.99 |
| PS Vita | Shiren the Wanderer: The Tower of Fortune and the Dice of Fate | $19.99 | $15.99 | $39.99 |
| PS Vita | Soldner-X 2: Final Prototype (Cross-Buy) | $2.99 | $1.99 | $9.99 |
| PS Vita | Soldner-X 2: Final Prototype Complete Bundle (Cross-buy) | $3.89 | $2.59 | $12.99 |
| PS Vita | Sorcery Saga: Curse of the Great Curry God | $7.49 | $4.49 | $14.99 |
| PS Vita | Steins;Gate | $4.99 | $2.99 | $19.99 |
| PS Vita | Steins;Gate 0 | $19.99 | $15.99 | $39.99 |
| PS Vita | Superdimension Neptune VS Sega Hard Girls | $19.99 | $15.99 | $39.99 |
| PS Vita | The Legend Of Heroes: Trails of Cold Steel | $21.99 | $17.99 | $39.99 |
| PS Vita | Torquel (Cross-Buy) | $4.99 | $3.99 | $9.99 |
| PS Vita | Valkyrie Drive: Bhikkhuni | $25.99 | $21.99 | $39.99 |
| PS Vita | XBlaze Code: Embryo | $9.99 | $5.99 | $19.99 |
| PS Vita | XBlaze Lost: Memories | $19.99 | $11.99 | $39.99 |
| PS Vita | Ys: Memories Of Celceta | $10.99 | $8.99 | $19.99 |
| PS Vita | Z-Run | $3.59 | $2.69 | $8.99 |
| PS Vita | Zero Escape: Virtue's Last Reward | $11.24 | $8.74 | $24.99 |
| PS Vita | Zero Escape: Zero Time Dilemma | $23.99 | $19.99 | $39.99 |
| PSP | BlazBlue: Continuum Shift II | $2.99 | $1.99 | $9.99 |
| PSP | Blazing Souls Accelate | $2.39 | $1.59 | $7.99 |
| PSP | Capcom Classics Collection Reloaded | $2.99 | $1.99 | $9.99 |
| PSP | Capcom Classics Collection Remixed | $4.49 | $3.49 | $9.99 |
| PSP | Capcom Puzzle World | $5.49 | $4.49 | $9.99 |
| PSP | Chameleon | $1.59 | $1.19 | $3.99 |
| PSP | Cho Aniki Zero | $2.39 | $1.79 | $5.99 |
| PSP | Elminage Original | $5.99 | $4.49 | $14.99 |
| PSP | Gladiator Begins | $3.19 | $2.39 | $7.99 |
| PSP | Guilty Gear XX Accent Core Plus | $3.99 | $2.99 | $9.99 |
| PSP | Hakuoki: Demon of the Fleeting Blossom | $3.99 | $2.99 | $9.99 |
| PSP | Hakuoki: Warriors of the Shinsengumi | $3.19 | $2.39 | $7.99 |
| PSP | Jikandia: The Timeless Land | $4.99 | $2.99 | $9.99 |
| PSP | Mimana Iyar Chronicle | $3.99 | $2.99 | $9.99 |
| PSP | Monster Hunter Freedom Unite | $5.99 | $3.99 | $19.99 |
| PSP | Power Stone Collection | $4.99 | $3.99 | $9.99 |
| PSP | Ragnarok Tactics | $3.19 | $2.39 | $7.99 |
| PSP | Warriors of the Lost Empire | $2.39 | $1.79 | $5.99 |