PlayStation 4 announced, out this holiday
Sony's next generation games console.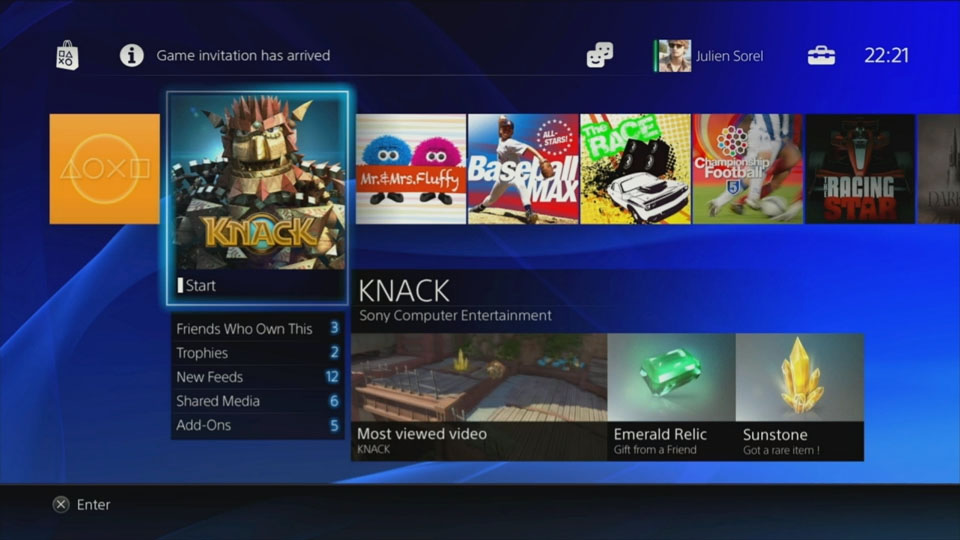 Sony has announced PlayStation 4, its next generation games console, for a holiday 2013 release at PlayStation Meeting 2013 in New York City.
"Our vision for the future is consumer-centric, developer-inspired, and characterized by an unwavering commitment to phenomenal play experiences," said Sony Comupter Entertainment president and Group CEO Andrew House. "Today we are revealing the genesis of an expanding 'idea' about the future of play – an idea with enough potential to satisfy the insatiable appetites of our creative community of developers and gamers."
The console moves away from the Cell architecture of PlayStation 3 for a more PC-like structure. It's built from a supercharged PC architecture, an X86 CPU, enhanced PC GPU, and 8 gigabytes of GDDR5 unified memory.
"We wanted to ensure that nothing would come between the platform and the joy of play," said lead PlayStation 4 architect Mark Cerny. "We also wanted to be sure that the system architecture could fluidly connect the player to a larger world of experiences, and provide easy access to everything PlayStation has to offer – across the console and mobile spaces, and PlayStation Network. And we were able to create, in PS4, a platform by game creators for game creators."
Specs
Main Processor
Single-chip custom processor
CPU: x86-64 AMD "Jaguar," 8 cores
GPU: 1.84 TFLOPS, AMD next-generation Radeon based graphics engine

Memory
GDDR5 8GB

Hard Disk Drive
Built-in

Optical Drive (read only)
BD 6xCAV
DVD 8xCAV

I/O
Super-Speed USB (USB 3.0) 、AUX

Communication
Ethernet (10BASE-T, 100BASE-TX, 1000BASE-T)
IEEE 802.11 b/g/n
Bluetooth® 2.1 (EDR)

AV output
HDMI
Analog-AV out
Digital Output (optical)
DualShock 4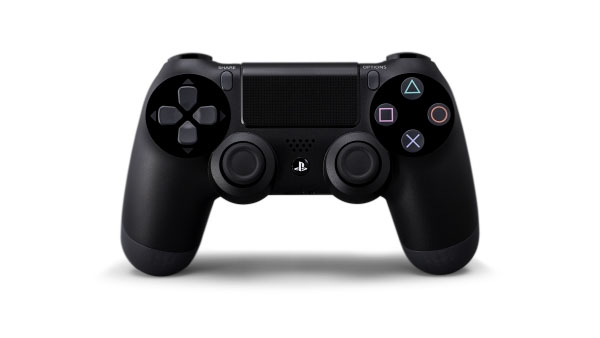 The system introduces a new controller, the DualShock 4, which features:
A highly sensitive six-axis sensor.
Touch-pad on the front of the controller.
Light bar on the top with three color LEDs that illuminate in various colors. This illuminates to match the color of characters in a game to offer a simpler, more friendly way to identify players, even when playing side by side. It also changes patterns during gameplay to provide "useful information" to gamers, like when a character is low on health or has taken a major hit.
Built-in speaker. Sound effects will come out of both the TV and controller.
Headphone jack. A Mono Headset will be bundled with every PlayStation 4, allowing gamers to chat while playing online.
Options button. Integrates previous controllers' Start and Select buttons into a single button.
Share button. Allows gamers to easily broadcast their gameplay in real-time to friends through internet streaming services such as Ustream. Users can also share their triumphs and accomplishments by uploading video gameplay to Facebook.
Improved triggers. Sony worked with key partners in the development community to improve the feel of the left / right sticks and the trigger buttons. The result is a much tighter sense of control over in-game actions.
View more images of the DualShock 4 at the gallery.
PlayStation 4 Eye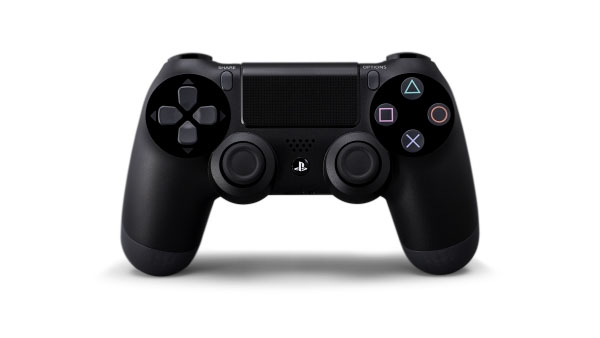 A new PlayStation Eye featuring dual "high-sensitive cameras" that have "wide-angle lenses with 85 degree diagonal angle views" and "can recognize depth of space precisely" will be released alongside PlayStation 4. This allows the camera to be able to cut out the image of the player from the background, or grasp his location in front and behind. It also has four built-in microphones.
Players will be able to use the camera as an identifier to log in to their PlayStation 4 through facial recognition. The camera can also recognize the light bar on the DualShock 4 controller to judge the positions of multiple players and set them in the same positions in-game.
PlayStation 4 Eye also supports the PlayStation Move controller, and can now detect the motion controller "more accurately than ever."
View more images of the PlayStation Eye 4 at the gallery.
Backwards Compatibility
PlayStation 4 will not be backwards compatible with PlayStation 3 titles (including PlayStation Network titles), however, through cloud technology—specifically, a new service called PlayStation Cloud—PSone, PS2, and PlayStation 3 games can be accessed across a variety of PlayStation-certified devices. This service will be rolled out in phases.
Used Games and Online
Used games can be played on PlayStation 4 and an always-on internet connection is not required. Lay those rumors to rest.
Self-Publishing
PlayStation 4 will allow independent game developers to self-publish and self-price games on PlayStation Network.
Downloads
With PlayStation 4, digital games can be played even as they're downloading. A secondary custom chip built into the system, which manages uploads and downloads, will also allow players to download games in the background even when the system's main power is off.
Immediacy
PlayStation 4 "radically reduces" lag time between the player and their content. A new "suspend mode" will keep the system on in a lower power state while preserving your game session. Then, players can simply hit the power button again and return to their game where they left off.
Personalized Content
On PlayStation 4's new user interface, players can look over game-related information shared by friends, watch what they're playing, or get information on recommended content. The long-term goal of the system is to "reduce download times to zero," according to Sony. "If the system knows enough about a player to predict the next game they will purchase, then that game can be loaded and ready to go before they even click the 'buy' button."
Connectivity
PlayStation 4 owners will be able to record and share gameplay with friends, host live stream sessions, and more.
The system will always record your last few minutes of gameplay, which you can scan through and tag, return to your game, and continue playing as your newly-created video is uploaded in the background. Players can also share images and videos with their friends on social services like Facebook.
Live broadcasts enable friends to watch you as you play your game, add comments, and, if you're facing in-game difficulties, even have them take over the controller to get you through that certain area. They can also help you in other ways, such as offer health potions or special weapons.
The system's friends system will be based on already-existing social networks, according to Sony, and is built for connections with real-world friends. A profile page shows the activities of PlayStation Network user "DayZ100," whose real name Henry Bayle is listed just above. It shows he's been playing Knack for the last 40 minutes, in the Monte Verde area. You can join his game, if you like. Three minutes ago, he shared a video he recorded from his session. On the side, you can see an image of Bayle, choose to send him a message or initiate a voice chat, look at his trophies, see his other recent activities, view his about page, or browse through his friends list.
Remote Play
The new system will also support remote play via PlayStation Vita, allowing players to play their PlayStation 4 games on PS Vita via a Wi-Fi connection. The long-term goal, according to Sony, is to make every PlayStation 4 game compatible with remote play.
"PS Vita is the ultimate companion device for PS4, enabling gamers to pull their games from their beautiful HDTVs to PS Vita's beautiful 5-inch screen," said Gaikai CEO David Perry.
Smartphones
A new "PlayStation App" smartphone application will enable iOS and Android-based smartphones and tablets to become "second screens" for PlayStation 4. "Once installed on these devices, users can, for example, see maps on their second screens when playing an adventure game, purchase PS4 games while away from home and download it directly to the console at home, or remotely watch other gamers playing on their devices."
User Interface
Here are some shots of the PlayStation 4's user interface: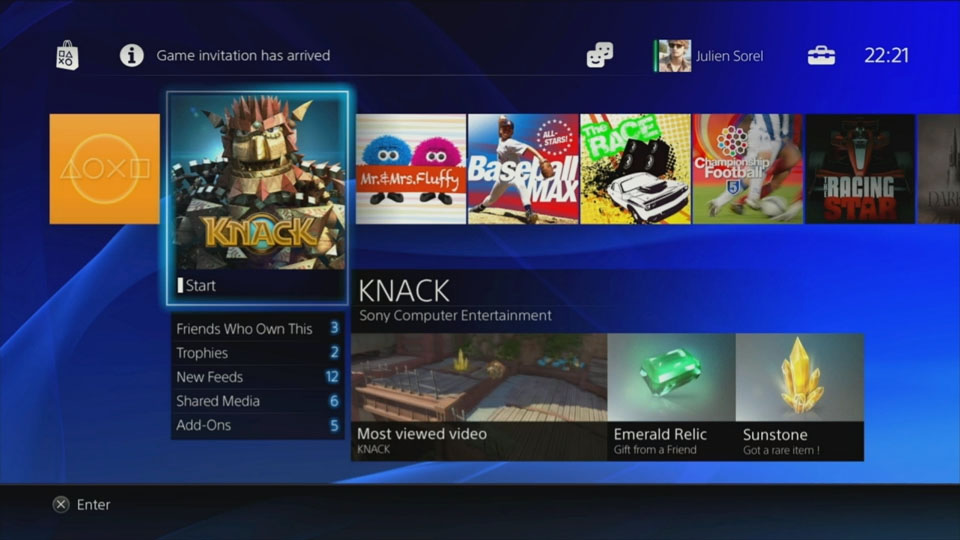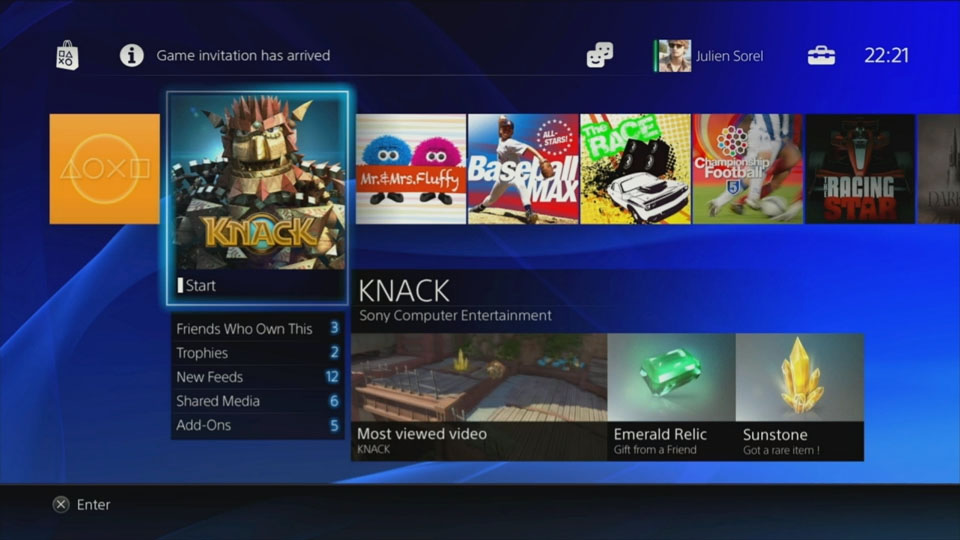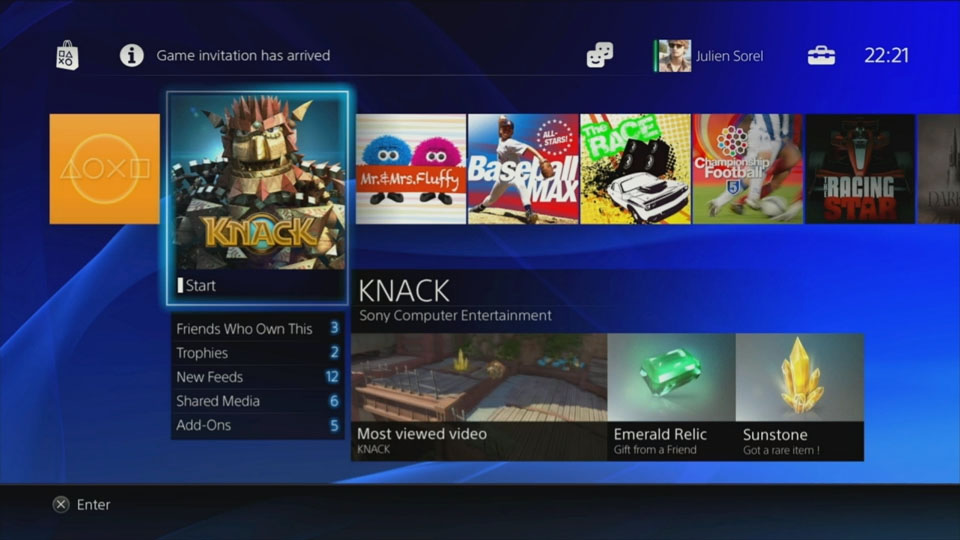 The Games
The following games are confirmed for PlayStation 4:
Additional titles will "continue to be announced," said Sony, with "full support of SCE Worldwide Studios, third-party developers and publishers, and the independent development community."
Here's a list of third-party publishers and developers supporting the console:
Japan (45)

Acquire Corp.
Arc System Works Co.,Ltd.
ASCII Media Works Inc.
Bethesda Softworks, LLC
Capcom
Crafts & Meister Co.,Ltd.
Chara-Ani Corporation
CyberConnect2 Co.,Ltd.
D3 Publisher Inc.
Dimps Corporation
Electronic Arts Inc.
FromSoftware, Inc.
Ganbarion Co., Ltd.
Grasshopper Manufacture Inc.
Gust Co.,Ltd.
Genki Co., Ltd.
Granzella Inc.
Idea Factory Co., Ltd.
Imageepoch Inc.
Index Corp.(Atlus)
Kadokawa Games,Ltd.
Kadokawa Shoten Co., Ltd.
Konami Digital Entertainment Co., Ltd.
Level-5 Inc.
MAGES. Inc.
Marvelous AQL Inc.
Namco Bandai Games Inc.
Namco Bandai Studios Inc.
Nippon Ichi Software, Inc.
O-Two inc. (peakvox)
PlatinumGames Inc.
Sega Corporation
Spike Chunsoft Co.,Ltd.
Square Enix Co., Ltd.
SystemSoft Alpha Corp.
Tecmo Koei Games Co.,Ltd.
Tose Co., Ltd.
Ubisoft Entertainment
Will Co.,Ltd.
Xing Inc.
Yuke's Co.,Ltd.
tri-Ace Inc.

Asia (4)

BLUESIDE Inc.
Ratloop Asia Pte Ltd
Red Hare Studios
XPEC Entertainment Inc.

North America (47)

5th Cell Media LLC
17-Bit
Activision Publishing, Inc.
Armature Studios
Behaviour Interactive
Bethesda Softworks, LLC
Blind Squirrel Games
Certain Affinity, Inc.
Darkside Game Studios, Inc.
Disney
Double Fine Productions, Inc.
Double Helix Games
DrinkBox Studios Inc.
Edge of Reality, Inc.
Electronic Arts Inc.
FarSight Studios
Gaijin Games, Inc.
HB Studios Multimedia
Heavy Iron Studios, Inc.
High Voltage Software, Inc.
Iron Galaxy Studios, LLC
JETPACK Interactive Entertainment Ltd.
Klei Entertainment Inc.
Lab Zero, Inc
LucasArts, a Lucasfilm Ltd. company
Metanet Software Inc
Minority Media Inc.
Nicalis, Inc
Panic Button, LLC
Psyonix Studios, Inc.
Slant Six Games
Sony Online Entertainment LLC
Spark Unlimited
Spry Fox LLC
SuperVillain Studios
Take-Two Interactive Software, Inc.
Telltale, Inc.
Tribute Games Inc.
Turtle Rock Studios, Inc.
Ubisoft Entertainment
WayForward Technologies, Inc.
Zombie Studios, LLC
inXile Entertainment Inc.
vBlank Entertainment Inc.

Europe / PAL (30)

Avalanche Studios
Blitz Games Studios
Bohemia Interactive
CD Projekt RED
Climax Studios
Codemasters
Creative Assembly
Criterion Games
Ghost Games – An EA Studio
Hello Games
IO Interactive
Just Add Water (Developments), Ltd.
Lucid Games Ltd
Ninja Theory Ltd
Nixxes Software BV
Paradox Interactive
Rebellion
Saber Interactive
Stainless Games Ltd
Starbreeze Studios
Sumo Digital
TT Games
Team 17 Digital LTD
Yager
Zen Studios
keen games