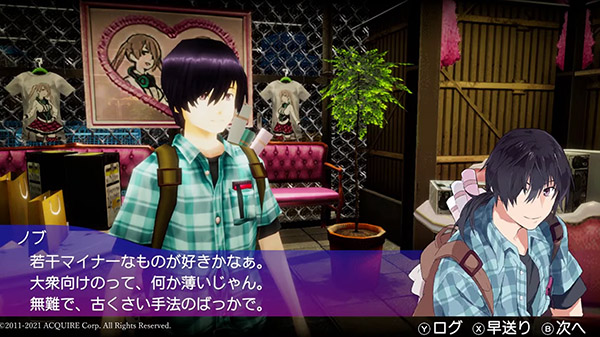 Acquire has released the the Gon-chan and Nobu-kun character trailers for AKIBA'S TRIP: Hellbound & Debriefed.
Here is an overview of each character, via Acquire:
Gon-chan (voiced by Teruyuki Tanzawa) – An over 30 year-old idol otaku. Usually timid, but in front of an idol with a camera in hand, his personality shifts completely.
Nobu-kun (voiced by Junji Majima) – An anime and manga lover in his mid-twenties. A man who says he can only love 2D. One of the members of the vigilante group that protects the Akihabara they hold so dear.
Previous character trailers introduced Satoko Midou, Ryuuji Sejima, Sena Kitada, Mana Kitada, the protagonist, Suzu Moriizumi, and Rui Fumizuki.
Akiba's Trip: Hellbound & Debriefed is due out for PlayStation 4 and Switch on May 20 in Japan, followed by PlayStation 4, Switch, and PC via Steam this summer in the west.
Watch the trailers below.
Gon-chan
Nobu-kun