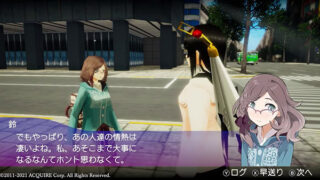 Acquire has released the the protagonist and Suzu Moriizumi character trailers for Akiba's Trip: Hellbound & Debriefed.
Here is an overview of each character, via Acquire:
Protagonist – An 18 year-old prep school student. While in Akihabara in pursuit of his friend who went missing chasing the mystery of the Shadow Souls, he gets caught up in an incident that changes his fate forever.
Suzu Moriizumi – A girl the same age as Rui Fumizuki. Everything she does, she does with Rui. She seems to confront the protagonist, but what is her true identity? She is always hungry for a big meal.
If you missed it, the first character trailer featured Rui Fumizuki.
Akiba's Trip: Hellbound & Debriefed is due out for PlayStation 4 and Switch on May 20 in Japan. A western release, including a PC (Steam) version, is also planned via western publisher XSEED Games in 2021.
Watch the trailer below.
Protagonist
Suzu Moriizumi