Capcom sales update: Monster Hunter: World at 11.9 million, Resident Evil 5 at 11 million, more
All 87 of Capcom's million-sellers.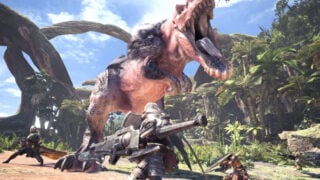 Capcom has updated its mega-list of "Platinum Titles"—titles which have sold over one million units—providing various notable updates.
Among the updates include:
Get the full updated list of Platinum Titles below.
Release
Title
Platform
Million
units
1
Jan 2018
Monster Hunter: World
PS4, Xbox One, PC, DL
11.9
2
Mar 2009
Resident Evil 5
PS3, Xbox 360, DL
7.4
3
Oct 2012
Resident Evil 6
PS3, Xbox 360, DL
7.2
4
Jun 1992
Street Fighter II
SNES
6.3
5
Jan 2017
Resident Evil 7 biohazard
PS4, Xbox One, PC, DL
6.1
6
Jan 1998
Resident Evil 2
PS
4.96
7
Dec 2010
Monster Hunter Freedom 3
PSP, DL
4.9
8
Nov 2015
Monster Hunter Generations
3DS, DL
4.3
9
Oct 2014
Monster Hunter 4 Ultimate
3DS, DL
4.2
10
Sep 2013
Monster Hunter 4
3DS, DL
4.1
11
Jul 1993
Street Fighter II Turbo
SNES
4.1
12
Mar 2008
Monster Hunter Freedom Unite
PSP, DL
3.8
13
Sep 1999
Resident Evil 3: Nemesis
PS
3.5
14
Feb 2009
Street Fighter IV
PS3, Xbox 360, DL
3.4
15
Sep 2010
Dead Rising 2
PS3, Xbox 360, PC, DL
3.1
16
Jan 2008
Devil May Cry 4
PS3, Xbox 360, DL
3.0
17
Mar 2017
Monster Hunter Generations Ultimate
3DS, Switch, DL
3.0
18
Feb 2016
Street Fighter V
PS4, PC, DL
2.9
19
Mar 1996
Resident Evil
PS
2.75
20
Nov 2013
Dead Rising 3
Xbox One, DL
2.6
21
Dec 2011
Monster Hunter 3 (Tri) G
3DS, DL
2.6
22
Mar 2012
Resident Evil: Operation Raccoon City
PS3, Xbox 360, DL
2.5
23
Jan 2013
DmC Devil May Cry
PS3, Xbox 360, DL
2.4
24
Mar 2015
Resident Evil Revelations 2
PS3, PS4, Xbox 360,
Xbox One, PC, DL
2.4
25
Feb 2007
Monster Hunter Freedom 2
PSP
2.4
26
Jul 1999
Dino Crisis
PS
2.4
27
Feb 2010
Resident Evil 5: Gold Edition
PS3, Xbox 360, DL
2.3
28
Nov 2014
Resident Evil (HD Remastered)
PS3, DL
2.3
29
Dec 2005
Resident Evil 4
PS2
2.3
30
Feb 2011
Marvel vs. Capcom 3: Fate of Two Worlds
PS3, Xbox 360
2.2
31
Aug 2001
Devil May Cry
PS2
2.16
32
Mar 2002
Onimusha 2: Samurai's Destiny
PS2
2.1
33
Apr 2013
Dragon's Dogma: Dark Arisen
PS3, Xbox 360, DL
2.1
34
Jan 2016
Resident Evil 0: HD Remaster
PS3, PS4, Xbox One, PC, DL
2.1
35
Jan 2001
Onimusha: Warlords
PS2
2.02
36
May 2007
Resident Evil 4 Wii edition
Wii, DL
2.0
37
May 2010
Lost Planet 2
PS3, Xbox 360, DL
2.0
38
Jun 1994
Super Street Fighter II
SNES
2.0
39
Aug 2009
Monster Hunter Tri
Wii
1.9
40
Apr 2010
Super Street Fighter IV
PS3, Xbox 360, DL
1.9
41
May 2013
Resident Evil Revelations
PS3, Xbox 360, Wii U, PC, DL
1.9
42
Aug 2006
Dead Rising
Xbox 360, DL
1.8
43
Mar 2012
Street Fighter X Tekken
PS3, Xbox 360, DL
1.8
44
Jan 2003
Devil May Cry 2
PS2
1.7
45
Sep 1993
Street Fighter II: Special Champion Edition
MD
1.65
46
Jun 1986
Ghosts'n Goblins
NES
1.64
47
Dec 2006
Lost Planet: Extreme Condition
Xbox 360, DL
1.6
48
Mar 2016
Resident Evil 6
PS4, Xbox One, DL
1.6
49
Jan 2005
Resident Evil 4
GC
1.6
50
Feb 2004
Onimusha 3: Demon Siege
PS2
1.52
51
Dec 1988
Mega Man 2
NES
1.51
52
Dec 1990
Final Fight
SNES
1.48
53
Dec 2003
Resident Evil: Outbreak
PS2
1.45
54
Oct 2010
Dead Rising 2: Off The Record
PS3, Xbox 360, DL
1.4
55
Aug 2016
Resident Evil 4
PS4, Xbox One, DL
1.4
56
Jul 2009
Marvel vs. Capcom 2:
New Age Of Heroes
DL (PS3, Xbox 360)
1.4
57
Mar 2001
Resident Evil Code: Veronica X
PS2
1.4
58
Mar 2002
Resident Evil
GC
1.35
59
Dec 2003
Mega Man Battle Network 4
GBA
1.35
60
May 2012
Dragon's Dogma
PS3, Xbox 360
1.3
61
Aug 2014
Ultra Street Fighter IV
PS3, Xbox 360, PC, DL
1.3
62
Jun 2016
Resident Evil 5
PS4, Xbox One, DL
1.3
63
Dec 2005
Monster Hunter Freedom
PSP, DL
1.3
64
Nov 2007
Resident Evil: The Umbrella Chronicles
Wii
1.3
65
Sep 2017
Marvel vs. Capcom Infinite
PS4, Xbox One, PC, DL
1.3
66
Feb 2011
Super Street Fighter IV 3D Edition
3DS, DL
1.3
67
Feb 2005
Devil May Cry 3
PS2
1.3
68
Nov 2002
Resident Evil 0
GC
1.25
69
Jun 2013
Remember Me
PS3, Xbox 360, PC, DL
1.2
70
Sep 2000
Dino Crisis 2
PS
1.2
71
Nov 2011
Ultimate Marvel vs. Capcom 3
PS3, Xbox 360, DL
1.2
72
Nov 2013
DuckTales: Remastered
PS3, Xbox 360, Wii U, DL
1.2
73
Mar 2012
Devil May Cry HD Collection
PS3, Xbox 360, DL
1.2
74
Aug 1998
Resident Evil Director's Cut Dual Shock
PS
1.2
75
Dec 1993
Mega Man X
SNES
1.16
76
Feb 2000
Resident Evil Code: Veronica
DC
1.14
77
Sep 1986
Commando
NES
1.14
78
Sep 1997
Resident Evil Director's Cut
PS
1.13
79
Jun 2009
Bionic Commando
PS3, Xbox 360, PC, DL
1.1
80
Jun 2011
Super Street Fighter IV Arcade Edition
PS3, Xbox 360, DL
1.1
81
Aug 2015
Mega Man Legacy Collection
PS4, Xbox One, DL
1.1
82
Oct 1991
Super Ghouls'n Ghosts
SNES
1.09
83
Sep 1990
Mega Man 3
NES
1.08
84
May 1993
Final Fight 2
SNES
1.03
85
Dec 2016
Dead Rising 4
Xbox One, PC, DL
1.0
86
Dec 1998
Street Fighter Alpha 3
PS
1.0
87
Feb 2006
Devil May Cry 3 Special Edition
PS2
1.0