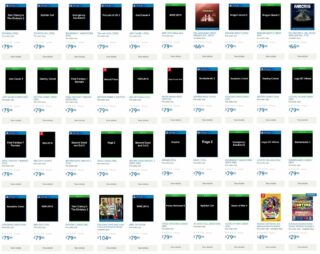 Wal-Mart Canada has posted a slew of new listings for unannounced games including Borderlands 3, Gears of War 5, "Forza Horizons 5," Just Cause 4, Rage 2, and Splinter Cell.
The retailer also posted listings for Dragon Quest 2 for PlayStation 4 and Xbox One, which we would guess is meant to be Dragon Quest Builders 2, which has yet to be confirmed for a western release, but is planned for release on PlayStation 4 and Switch in Japan. There is also a listing for an Xbox One version of Final Fantasy VII Remake, which has currently only been announced for PlayStation 4.
Of course, none of this is to say the titles listed by the retailer are legitimate (especially given the spelling errors in some), but with E3 2018 set to take place from June 12 to 14 in Los Angeles, it is possible Wal-Mart Canada jumped the gun.
Here is the full list:
Thanks, @Wario64.
Update 2:37 p.m.: The official Twitter account for Rage, Bethesda Softworks, and Bethesda Softworks' Pete Hines have responded to the Wal-Mart postings.
Hey @WalmartCanada here are a few notes. pic.twitter.com/R1od2aTEMC

— RAGE (@RAGEgame) May 9, 2018
Dude.

— Bethesda (@bethesda) May 9, 2018
This is why we can't have nice things. https://t.co/ZhOHGsITfp

— Pete Hines (@DCDeacon) May 9, 2018
Update 5/10/18 at 2:55 p.m.: Wal-Mart Canada director of corporate affairs Anika Malik told Motherboard the following regarding the product listings: "Walmart experienced a technical glitch that allowed certain items to be posted to our website for a short period of time. The items posted were speculative in nature and only game publishers can confirm the announcement of a release. We apologize for any confusion this has caused. Like the gaming community, Walmart looks forward with anticipation to those announcements."