PlayStation Experience 2017 exhibitors and playable titles announced
Over 100 games playable on the show floor.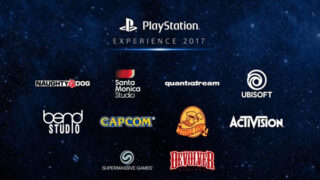 Sony Interactive Entertainment has announced the "near-final" list of exhibitors and 100-plus playable titles at PlayStation Experience 2017 from December 9 to 10.
The company notes that the list is subject to change and that it 'doesn't want to give everything away just yet.'
In addition to playable games, the PlayStation Experience 2017 show floor will also feature "an array of immersive, interactive displays that will blend the worlds of game and reality."
Get the lists below.
Exhibitors

Activision Publishing, Inc.
Adult Swim Games
Arcade Distillery
Arika CO.,LTD.
Artifact 5
Ask an Enemy Studios
Batterystaple Games and Fire Hose Games
Bit Kid, Inc.
Blue Mammoth Games
Bungie & Activision
Cleaversoft
Dan & Gary Games
Drinkbox Studios
En Masse Entertainment / Bluehole, Inc.
Finji + Infinite Fall
Friend & Foe AB
Grab Games
Grip Digital
Highwire Games
Hopoo Games, LLC
Household Games
Humble Bundle
Impulse Gear
ISVR
Japan Studio
London Studio
Media Molecule
Mommy's Best Games
MunkyFun
Muse Games
NapNok Games
Paranoid Productions
Playism
Rebellion
RocketPunch Games
Sirlin Games
Spooky Squid Games
Starbreeze
Sunsoft
The Voxel Agents
Tribetoy
Trion Worlds
Ubisoft Entertainment
USC Games
Versus Evil LLC
White Lotus Interactive
Wish Studios

PlayStation 4 Titles

20XX (Batterystaple Games / Fire Hose Games)
A Duel Hand Disaster: Trackher (Ask An Enemy Studios)
Aegis Defenders (Humble Bundle / GUTS Department)
At Sundown (Versus Evil / Mild Beast Games)
Boundary (Studio Surgical Scalpels)
Brawlhalla (Blue Mammoth Games)
Call of Duty: WWII (Activision Publishing, Inc. / Sledgehammer Games)
Chasm (Discord Games)
Children of Morta (11 bit studios / Dead Mage)
Code: Hardcore (RocketPunch Games)
Crossing Souls (Devolver Digital / Fourattic)
Dead by Daylight (Starbreeze / Behaviour Interactive)
Dead Rising 4: Frank's Big Package (Capcom / Capcom Vancouver)
Deadbolt (Hopoo Games, LLC)
Destiny 2 – Expansion I: Curse of Osiris (Activision Publishing, Inc. / Bungie)
Detroit: Become Human (Sony Interactive Entertainment / Quantic Dream)
DJMAX Respect (Neowiz)
Dragon's Crown Pro (Atlus)
EarthNight (Cleaversoft)
Fantasy Strike (Sirlin Games)
Far Cry 5 (Ubisoft Entertainment / Ubisoft Montreal)
fault milestone one (Sekai Project / Alice in Dissonance)
Fight Knight
Fighting EX Layer (Arika)
Flipping Death (Zoink Games)
Fortnite Battle Royale (Epic Games)
Frantics (Sony Interactive Entertainment / NapNok Games)
Gang Beasts (Double Fine Productions / Boneloaf)
Gran Turismo Sport (Sony Interactive Entertainment / Polyphony Digital)
Guacamelee! 2 (DrinkBox Studios)
Guns of Icarus Alliance: PS4 Edition (Muse Games)
Hidden Agenda (Sony Interactive Entertainment / Supermassive Games)
Horizon Chase Turbo (Aquiris)
Hover (Playdius)
Iconoclasts (Bifrost Entertainment)
Immortal: Unchained (Toadman Interactive)
Kingdom Come: Deliverance (Deep Silver)
Knights and Bikes (Double Fine Productions / Foam Sword Games)
Knowledge Is Power (Sony Interactive Entertainment / Wish Studios)
Lost Soul Aside (PSX 2017 Special Version) (Ultizero Games)
Marvel vs. Capcom: Infinite (Capcom)
MLB The Show 17 (Sony Interactive Entertainment / Sony Interactive Entertainment San Diego Studio)
Monster Hunter: World (Capcom)
Moonlighter (11 bit studios / Digital Sun)
Mothergunship (Grip Digital / Terrible Posture Games)
Mulaka (Lienzo)
Night in the Woods (Infinite Fall)
No Heroes Here (Mad Mimic)
Omen of Sorrow (AOne Games)
Pig Eat Ball (Mommy's Best Games)
Pinstripe (Armor Games Studios)
Riverbond (Cococucumber)
Russian Subway Dogs (Spooky Squid Games)
School Girl/Zombie Hunter (Aksys Games / D3 Publisher / Tamsoft)
Shadow of the Colossus (Sony Interactive Entertainment / Bluepoint Games / Sony Interactive Entertainment JAPAN Studio)
Shape of the World (Plug In Digital / Hollow Tree Games)
SkullPirates (Arcade Distillery)
Sonic Forces (Sega)
Sonic Mania (Sega / PagodaWest Games / Headcannon)
Strange Brigade (Rebellion Developments)
Street Fighter V: Arcade Edition (Capcom)
Super Daryl Deluxe (Dan & Gary Games)
Super Meat Boy Forever (Team Meat)
Tera (Bluehole)
That's You! (Sony Interactive Entertainment / Wish Studios)
The Adventure Pals (Armor Games Studios / Massive Monster)
The Cat and the Coup (Peter Brinson and Kurosh ValaNejad)
The Church in the Darkness (Paranoid Productions)
The Forest (Endnight Games)
The Gardens Between (The Voxel Agents)
The Night Journey (USC Games)
The Swords of Ditto (Devolver Digital / Onebitbeyond)
Tokyo Xanadu EX+ (Aksys Games / Falcom)
Tower 57 (11 bit studios / Pixwerk)
Trove (Trion Worlds)
Uncharted: The Nathan Drake Collection (Sony Interactive Entertainment / Naughty Dog)
Uncharted 4: A Thief's End (Sony Interactive Entertainment / Naughty Dog)
Uncharted: The Lost Legacy (Sony Interactive Entertainment / Naughty Dog)
Under Night In-Birth EXE:Late[ST] (Aksys Games / Arc System Works / French-Bread)
Vane (Friend & Foe)
Walden, a game (USC Games)
War Theatre (Arcade Distillery)
Way of the Passive Fist (Household Games)
World End Economica (Sekai Project / Spicy Tails)
Yakuza 6: The Song of Life (Sega / Yakuza Studio)
YIIK: A Postmodern RPG (Ysbryd Games / Ackk Studios)

PlayStation VR Titles

Anamorphine (Artifact 5)
Bow to Blood (Tribetoy)
Bravo Team (Sony Interactive Entertainment / Supermasisve Games)
Dark Eclipse (Sunsoft)
Farpoint (Sony Interactive Entertainment / Impulse Gear)
Golem (Highwire Games)
Gungrave (Blueside / Iggymob / RED Entertainment)
Knockout League (Grab Games)
League of War: VR Arena (MunkyFun)
Medusa and Man (ship of EYLN)
Moss (Polyarc)
Resident Evil 7 biohazard (Capcom)
Shooty Fruity (nDreams / Near Light)
Sprint Vector (Survios)
The American Dream (Samurai Punk)
The Inpatient (Sony Interactive Entertainment / Supermassive Games)
The Persistence (Firesprite)
The X Animal (Internet Stars / Beijing Hulianxingmeng Technology)
Xing: The Land Beyond (White Lotus Interactive)