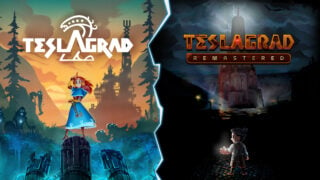 Publisher Modus Games and developer Rain Games have released Teslagrad 2 for PlayStation 5, Xbox Series, PlayStation 4, Xbox One, Switch, and PC via Steam for $19.99. A "Power Pack" edition including the newly announced and simultaneously released Teslagrad Remastered is also available for $29.49. Teslagrad Remastered can also be purchased separately for $9.99.
Here is an overview of each game, via Modus Games:
Teslagrad 2

About

Discover another tower In the Magnetic North!

Lumina, a young Teslamancer, finds herself stranded after her airship crashes in Wyrmheim, a remote and treacherous land to the North. Embark on a dangerous adventure, exploring a gigantic, abandoned tower looming over a fjordside valley, on a quest to get Lumina home and back to her family. Use electromagnetic powers to survive the dangers of a wild and untamed land. Defend yourself against Viking raiders, face gruesome beasts inspired by Nordic mythology, and triumph against epic bosses! As your journey progresses, you'll discover new skills and equipment needed to uncover the secrets of the land and delve into the dark past of Lumina's ancestors.

Teslagrad 2 is the follow-up to the hugely popular physics-based game where electromagnetic powers are at the heart of survival. With improved visuals, a bigger world, and new puzzle-solving tools, Teslagrad 2 delivers a fresh and immersive puzzle-platform experience!

Key Features

Scandinavia Meets Metroidvania – The world's first "Scandivania"—a grandiose Steampunk-meets-Norse adventure accompanied by an orchestral soundtrack inspired by Nordic folk tones and electronic tracks.
Explore an Abundant World – Discover rich and beautiful 2D hand-painted environments set in a wild and ravaged world full of hidden collectibles, secrets, and lore.
Magnetic Gameplay – Test your logic skills with perplexing puzzles based on real electromagnetic physics and enjoy a new twist with curved magnets!
Master Fluid Motion – Perfect new and returning skills and use them to move quickly and skilfully through the world, combining Lumina's abilities such as blinking, sliding, and magnetizing to build extra momentum.
Epic Boss Battles – Use your skills to overcome boss fights which unlock new abilities and additional areas to explore.
Visual Storytelling – Teslagrad 2 unfolds through what you see, with no text, voiceover or loading screens to interrupt gameplay.

Teslagrad Remastered

About

The Kingdom of Elektropia is under siege by a tyrant king, who rules over its people with an iron fist. When a city-wide manhunt comes for him, a young boy escapes into the Tesla Tower. Once home to a sect of technological wizards known as the Teslamancers, it is now a forgotten vault of ancient technologies and forgotten history. You are on your own, with only the tools of the lost Teslamancers and your wits to survive.

Discover and master the lost art of Teslamancy. Solve intricate puzzles and perform incredible feats through electromagnetism. Use these powers to ascend the decrepit tower and bask in a steampunk inspired vision of old Europe in this non-linear puzzle-platforming adventure, and uncover the lore hidden in the visual storytelling of the hand-drawn environments. Can you uncover the secrets of the tower and topple the tyrant?

Key Features

Complex Puzzles – Challenge your sense of logic to cleverly manipulate the world using electricity and magnetism. Surviving the perils of the Tesla Tower won't be easy!
Explore – Make your way through rich 2D hand-drawn surroundings as you journey into and beyond the Tesla Tower, picking up and mastering new items and abilities along the way.
Visual Storytelling – A forgotten tale unfolds through this unique narrative approach. No dialogue, cutscenes, text, loading screens, or interruptions. The world speaks for itself!
Steam(punk) Powered – Discover a dystopian and mind-blowing, rainy & brainy interpretation of old Europe through Steampunk goggles.

Remastered Features

Return to the indie classic Teslagrad, recharged to provide the ultimate electromagnetic experience, and with a crisp new shine to its already stunning visual direction! This remaster ensures that the atmosphere and platforming that made the original so magnetic are enhanced to such a level that players won't be able to leave their seats!

Updated Graphics – Marvel at the hand-drawn backgrounds in even more stunning clarity, with atmospheric lighting and crisper animations updated for the current generation of gaming.
Challenge Levels – Put your skills to the test with 10 additional challenge levels that push your electromagnetic powers to their limits.
Quality of Life Improvements – Designed to ensure that the game retains its original charm and challenge but will remove occasional frustrations found in the original.
Remastered Audio – Experience an eclectic mix of classical orchestra, with a touch of Russian inspiration sprinkled with a myriad of metal bits and bobs and electrical stuff.
Watch a set of launch trailers below. View a set of Teslagrad Remastered screenshots at the gallery.
Teslagrad 2 Launch Trailer
Teslagrad Remastered Launch Trailer
Teslagrad Remastered Screenshots