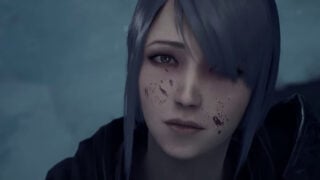 Publisher Binary Haze Interactive and developer Adglobe have released the final trailer for strategy RPG Redemption Reapers.
Here is an overview of the game, via Binary Haze Interactive:
Backed by a formidable battalion of AAA industry veterans, Redemption Reapers is an original story created by director Hiroyuki Kobayashi (producer, ENDER LILIES: Quietus of the Knights), with game balance design courtesy of tactical RPG veteran Masayuki Horikawa (series director, Fire Emblem; planning, Kingdom Hearts III), Tomokazu Fukushima (scenario, Metal Gear Solid, Freedom Wars), and Rei Kondoh (music, Bayonetta series, Fire Emblem series).

An all-star voice cast brings the world to life, including Alejandra Reynoso (Castlevania, DOTA 2), Jason Spisak (Arcane, Teen Titans GO!), Kyle McCarley (13 Sentinels: Aegis of Ruin, NieR: Automata), Allegra Clark (Apex Legends, Dragon Age: Inquisition), David Lodge (Persona 5, Final Fantasy XV), and Caleb Yen (Squid Game, Triangle Strategy, Attack on Titan).

Only the faintest glimmer of hope remains as the menacing Mort army slaughters all in their path, and a once-despised group of mercenaries becomes the only defense against total annihilation. Command humanity's last stand against evil, the Ashen Hawk Brigade, and fight for redemption against brutal foes utilizing strategic team tactics, surprise attacks and weapon synergies.

Precisely plan the Brigade's every move through war-torn villages, castles and snowfields to flank the ruthless Mort with perfect positioning. Deploy each warrior according to their strengths and abilities, mastering ranged, melee, and stealth tactics. Unleash special abilities to give the Ashen Hawk Brigade an edge during battle. Sacrifice maximum damage for stick-and-move mobility with special skills such as the "Butterfly Sting," and knock enemies off balance with attacks thrown in the "Staggering Stance."

Upgrade and outfit the Brigade with weapons and items earned after victories and forge relationships between team members through the bond of battle. Unravel the personal stories of each Ashen Hawk member, and make in-game dialogue choices impacting the relationship between fellow warriors.
Redemption Reapers is due out digitally for PlayStation 4, Switch, and PC via Steam on February 22. A physical edition is due out in April.
Watch the trailer below.
Final Trailer
English
Japanese