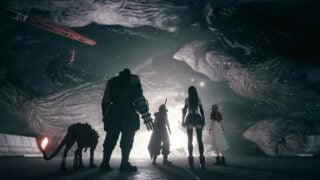 Square Enix hopes to share more information on its Final Fantasy VII Remake project in 2022, producer Yoshinori Kitase said during its "Final Fantasy VII: The First Soldier Official Live Stream #1: Final Fantasy VII 25th Anniversary Celebration."
"And as for the Final Fantasy VII Remake news you've been waiting on, I think I'll be able to share more this year… maybe…" Kitase said.
Final Fantasy VII Remake project creative director Tetsuya Nomura then interrupted. "You should probably be more clear," he said jokingly.
Kitase continued, "Alright then, now that the 25th anniversary has begun, I'd like to get the Final Fantasy VII excitement going with everyone over the next year, and so I hope to share more news this year, so please look forward to it."
Final Fantasy VII Remake launched for PlayStation 4 on April 10, 2020. The enhanced Final Fantasy VII Remake Integrade followed for PlayStation 5 on June 10, 2021 and PC via Epic Games Store on December 16. Development on the next part of Final Fantasy VII Remake is currently underway and directed by Naoki Hamaguchi.
Thanks, Games Talk.