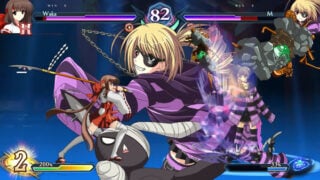 Publisher Rocket Panda Games and developers MAGES. and GameLoop have released the English dub trailer for Phantom Breaker: Omnia.
The English dub features the vocal talents of the following voice actors:
Luci Christian – Cocoa (Ochaco in My Hero Academia)
Monica Rial – Fin (Stocking in Panty & Stocking)
Joe Zieja – Infinity (Achilles in Fate / Apocrypha)
Erica Lindbeck – Itsuki (Futaba Sakura in Persona 5)
Sarah Williams – M (Jinx in League of Legends)
Kira Buckland – Mei (Mary Saotome in Kakegurui)
Erica Mendez – Mikoto (Retsuko in Aggretsuko)
SungWon Cho – Phantom (FL4K in Borderlands 3)
Alejandro Saab – Ren (Leon in Pokemon Journeys)
Caitlin Glass – Ria (Cammy White in Street Fighter V)
Lilypichu – Rin (Mina in Ethereal Enigma)
Laura Stahl – Shizuka (Aiger Akabane in Beyblade Burst Turbo)
Felecia Angelle – Sophia (Toru Hagakure in My Hero Academia)
Matt Mercer – Tokiya (McCree in Overwatch)
Cristina Vee – Waka (Noel in BlazBlue)
Amber Connor – Yuzuha (Faye in Fire Emblem)
Carrie Savage – Rimi (Celica A. Mercury in BlazBlue: Cross Tag Battle)
Trina Nishimura – Kurisu Makise (Mikasa Ackermann in Attack on Titan)
Patrick Seitz – Gaito (Dio in JoJo's Bizarre Adventure)
Daman Mills – Ende (Frieza in Dragon Ball Super)
Phantom Breaker: Omnia is due out for PlayStation 4, Xbox One, Switch, and PC via Steam in early 2022. Read more about the game here.
Watch the trailer below.