The Legend of Heroes: Kuro no Kiseki details Walter Kron, Lucrezia Isselee, and Mare; web commercial
Van transforms.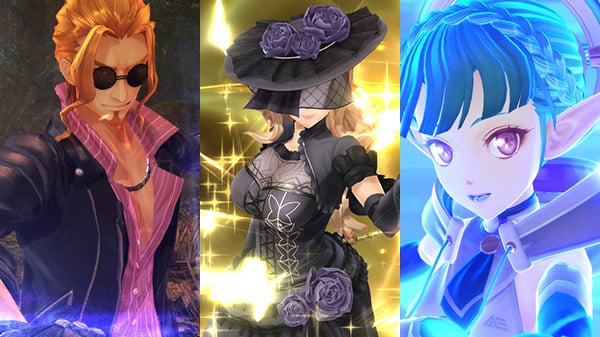 Falcom has released new information and screenshots for The Legend of Heroes: Kuro no Kiseki introducing sub characters Walter Kron, Lucrezia Isselee, and Mare, as well as the Creil Village and the city of Longlai. A 30-second web commercial was also released.
Get the details below.
■ Characters

Walter Kron (voiced by Takahiro Yoshimizu)

Age: 37
Height: 195cm
Organization: Ouroboros

"Don't be cruel. I owe a lot to Dr. Arkride for my previous request."

Enforcer No. VIII of Ouroboros, he is a combat enthusiast with an air of violence.

A user of the Taito style, which is one of the three major Eastern martial arts, he is Ryuga Rouran's top disciple, and was a senior pupil to Zin and Kilika.

In his student days, his martial arts skills were already developed well beyond that of an ordinary person, which attracted him to the concept of "power" itself, and instead of a "Friendly Fist," he set out to hone a "Murderous Fist" to take the lives of others, including his teacher Ryuga.

He currently seems to be in pursuit of a young man in the Republic, where he encounters Van and the Spriggans…

Lucrezia Isselee (voiced by Kana Ueda)

Age: 29
Height: 168cm
Organization: Ouroboros
Weapon: Dusk Glaive

"Hehehe… I wonder what kind of 'goodies' kids these days would appreciate."

Enforcer No. III of Ouroboros, she is also known as "Golden Butterfly."

A woman with a unique air about her, who always covers her face with a veil so her expressions are never visible, and is characterized by her gentle and elegant speech, which masks her true intentions.

She once fought against the Society as an assassin belonging to the organization Order of the Moonlight Horse. Though since losing the battle, she has joined the Society.

She wields a grotesquely large butter-knife shaped weapon called the "Dusk Glaive," which she uses to unleash fierce attacks that erase space itself.

Mare (voiced by Maria Naganawa)

"Leave it to me! Shard release—Wear the nightmare (take the Grendel)!"

A custom-made Hollow Core (support artificial intelligence) installed to the Xipha, Van's combat orbment.

Despite being an extremely self-assertive type, it has no "free will" and its personality is merely a facade of its artificial intelligence.

Like other Hollow Cores, it usually provides support through voice guidance, but around Van, it materializes in the real world as a hologram-like avatar after a "certain" occurrence.

When that happened, it showed a "free will" impossible for an artificial intelligence, and Van's body was "covered in a nightmare"… transforming him into Grendel, who wields incredibly explosive power.

■ World

Creil Village

A rural village with a population of 1,000 people located in the countryside leading to Remiferia and Ored northwest of Calvard.

Many people come here from the city for recreation due to its beautiful and expansive rural landscape, and distant view of the mountains and hills in the northwest that lead to eastern Nord.

Since it is close to the national border, jaegers tend to stop by for food and rest, but since no group seems to be permitted to cause a disturbance in the village—as it serves as an inn town for all sides—its residents are not too worried about their presence.

Longlai

A small local city with a population of about 20,000 people located between the Tianshan and Ischgl mountains at the easternmost tip of Calvard.

Since long ago, it has served merchants as a gateway to the eastern part of the continent, but with the eastern part of the continent becoming more and more barren, traffic has been decreasing every year.

However, due to the rich cultivation of tea leaves and gushing hot springs in the surrounding area, it manages to maintain a certain level of popularity as a health resort and tourist attraction.

While the townscape is Eastern, it is not as flashy as the Eastern streets of Langport, and has a rustic atmosphere that invokes a sense of zen.

It is also known as a training ground for those training in the three major Eastern martial arts—the Moon Flower, Kunlun, and Taito styles.
The Legend of Heroes: Kuro no Kiseki is due out for PlayStation 4 on September 30 in Japan. Read more about the game here, here, here, here, here, and here.
Watch the web commercial below. View the screenshots at the gallery.