The Legend of Heroes: Kuro no Kiseki details Judith Ranster, Bergard Zeman, and Crafts
A look at various character-specific skills.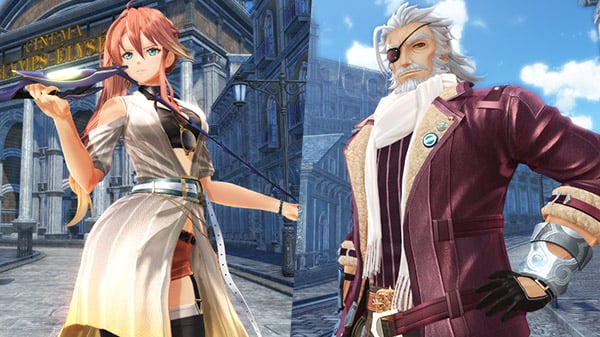 Falcom has released new information and screenshots for The Legend of Heroes: Kuro no Kiseki introducing new party members Judith Ranster and Bergard Zeman, as well as various character-specific Crafts.
Get the details below.
■ Characters

Judith Ranster

Age: 22
Weapon: Stellabute (Meteor Whip)

"It looks seems like a tricky situation for a single person, so I'm allowing you guys to help out. Any Objections?"

One of the top actresses of the Orbal cinema industry, she catches the eyes of many fans with her skilled acting and pinkish blonde hair.

She has a friendly personality, but also is also highly professional when it comes to her work as an actress. She also has the strong will and sense of justice to stand up for the weak, no matter who she has to face against.

Although she appears as an actress to the media, she also has a secret side job that she conducts in between her acting. But due to her slightly clumsy personality, she often finds herself in unideal situations—and sometimes even lets her enemies in on her weaknesses.

Bergard Zeman

Age: 69
Weapon: Gauntlet and Armor

"Ha ha ha, don't say such trivial things. I know you like it when there are more strings attached."

A muscular, one-eyed man who is a master of the "Kunlun Style," one three great Eastern martial arts, and has many students across the continent.

He used to travel the continent of Zemuria for work, but has since retired and abandoned his real name to enjoy travelling and living his life the way he desires to.

To Van, he was the mentor who taught him "proper" martial arts. Bergard never stopped Van from becoming a "fixer," either.

Later on, during the conflict between the Empire and the Republic, Van heard that Bergard died after being involved in a certain incident, but…

■ Crafts

In the command battles of The Legend of Heroes: Kuro no Kiseki, you can activate character-specific skills called "Crafts" by spending the CP (Craft Points) that accumulates during battle.

These Crafts are able to attack multiple enemies, boost the status of party members for a limited time, negate the effects of enemy Crafts, and mch more. Understanding each character's Craft effects is the key to turning the tides in battle.

Coin Bullet (Van Arkride)

Inflicts damage in a half-circle range by shooting coins at enemies. This craft has very little down time so it is easy to shift to the next action. It also decreases the attack power of enemies.

Glow Hammer (Agnes Claudel)

Deploys a orbal field in a hammer shape and inflicts damage to enemies struck within its range. It recovers EP according to how much damage it deals, so it is also useful as a support Craft if you are fighting mainly with arts.

Rapid Burst (Feri Al-Fayed)

An attack craft that shoots enemies in a half-circle range. It has slightly low damage, but is able to lower the enemy's attack power, so its true value is exhibited in battles against many enemies.

Eagle Talon Kick (Aaron Wei)

A high damage jump double-kick technique from the Eastern martial arts "Moon Flower Style." This craft only attacks a single enemy, but the damage output is extraordinary and restricts the enemy from using skills.

Sonic Chaser (Risette Twinnings)

Risette engulfs herself with light and moves at super speed to unleash a flurry of blows with her fists and bladegear. This Craft can only target a single enemy, but has a high damage output and enables Risette to maintain her boosted speed.

Lapras Code (Quatre Salison)

Quatre inputs a special code into his pulsegun, and FIO the orbal drone lays down a powerfield around him, which boosts Quatre's attack for a limited time as well as acts as a shield.

Criminal Bute (Judith Ranster)

An area-of-effect attack Craft that attracts enemies around Judith with her whip, then attacks them with rotating strikes. It has a decent amount of damage output and reach, enabling Judith to attack many enemies within her range.

Howling Boost (Bergard Zeman)

Bergard roars at enemies and damages them. It also boosts his own statuses, disables the enemy's movements, and negates any status boosts the enemy may have had.
The Legend of Heroes: Kuro no Kiseki is due out for PlayStation 4 on September 30 in Japan. Read more about the game here, here, and here.
View the screenshots at the gallery.