The Legend of Heroes: Kuro no Kiseki details Zin Vathek, Fie Claussell, and Shizuna Rem Misurugi
Three more characters introduced.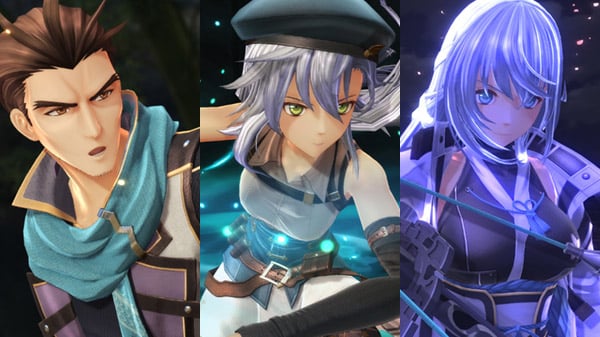 Falcom has released new information and screenshots for The Legend of Heroes: Kuro no Kiseki introducing sub characters Zin Vathek, Fie Claussell, and Shizuna Rem Misurugi.
Get the details below.
■ Characters

Zin Vathek (voiced by Tetsu Inada)

Age: 36
Height: 198cm
Weapon: Gauntlets and Boots

"You should loosen up a bit, it ruins your beauty."

A semi S-rank bracer who crowns the nickname "Immovable" and acts as a leader of the Calvard Bracer Guild.

He is a large Eastern man as tall as two arges, as well as a master of Taito style martial arts, which is one of the three major Eastern martial arts.

He contributed to the resolution of the "Liberl Phenomenon," "D.:.G Cult Incident," and many other major incidents, and acted as a core member of alliance operations in the World War two years ago.

His actions led to an immediate ceasefire, which led him to be recommended to be promoted to S-rank, but he declined and remains semi S-rank for the time being.

While tensions between fellow students continue—with his junior Taito style disciple occupying a key position in the CID, and senior disciple maintaining an eerie silence at the Ouroboros society—he has high hopes for promising junior bracer Elaine and watches over her growth, but she can be stubborn at times.

Fie Claussell (voiced by Hisako Kanemoto)

Age: 20
Height: 162cm
Weapon: Dual Gunblades

"I acted within the guilds guidelines, and didn't cross any international pacts… just barely…"

A B-rank bracer from the Imperial Bracer Guild with the nickname "Sylphid."

She comes from the Empire in response to the increasing number of issues within the Republic both small and large to help solve the shortage of manpower.

During her youth she acted as a jaeger in the jaeger corps Zephyr and has excellent physical and combat skills.

While she has a cool atmosphere around her, she can be surprisingly friendly, and often throws jokes at Elaine, her honors student-esque senior bracer.

Shizuna Rem Misurugi (voiced by Maaya Uchida)

Age: 23
Height: 170cm
Weapon: Jet Black Katana

"No, I cannot withdraw. I can see it now, the state of zero, and what lies beyond!"

The lieutenant captain of "Ikaruga," a samurai group headquartered somewhere in the continent's ruined east.

While she has a playful atmosphere and dazzling looks, she is also known as "Divine Blade of Silver" and is a master of the "Black God One Blade."

She usually wears the latest power suit and wields a jet black odachi that has been passed down in the east as a "treasured sword."

While her face may retain the innocence of a young woman, her expression changes into one that befitting of the name "Divine Blade" when she encounters a strong opponent.

Her fighting style resembles the Eight Leaves One Blade style, the magna opus of Eastern swordsmanship that "Sword Hermit" Yun Ka-fai developed, but….

■ Keywords

Ikaruga

A mysterious samurai group that sets their headquarters somewhere in the ruined Eastern regions of the continent.

Their combat skills are said to be the strongest in the Eastern region, and has many skilled members who use odachi swords, which have been passed down in the far East region.

They also use the newest weaponry and has a stealth operations unit known as "Shinobi."

The stealth techniques they use are of the Hazy Moon style, and their sword technique is called Black God One Blade style—but not much is known about their details or origins.
The Legend of Heroes: Kuro no Kiseki is due out for PlayStation 4 on September 30 in Japan. Read more about the game here, here, here, here, and here.
View the screenshots at the gallery.