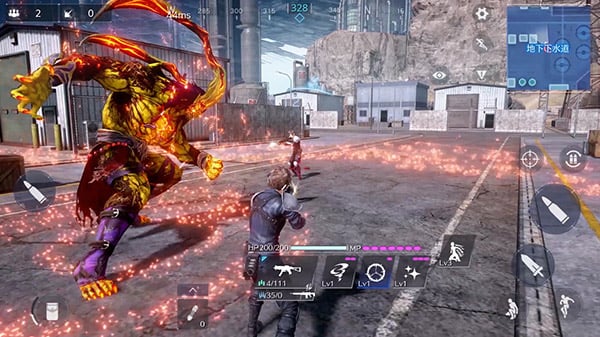 The closed beta test for battle royale action game Final Fantasy VII: The First Soldier will run from June 1 to 7 in North America on Android via Google Play, and from June 1 to 8 in Japan on both iOS and Android, Square Enix announced during the "Final Fantasy VII: The First Soldier Official Live Stream #0."
Here are the details:
North America

Beta Period: June 1 to 7 PT
Sign-Up Period: Today from 6:00 a.m. PM to May 27 at 8:00 p.m. PT
Sign-Up Method: Through Google Play (Android-only, U.S. and Canada only)
More Details: FFVIIFS.com

Japan

Beta Period: June 1 to 8 JST
Sign-Up Period: Today from 22:00 JST to May 28 at 12:00 JST
Sign-Up Method: Through Square Enix Members (free registration required, participants decided by lottery if too many applications are received)
Number of Participants: 10,000 on iOS, 10,000 on Android
More Details: FFVIIFS.com
Here is an overview of the game, via Google Play:
About

Fight to be the last SOLDIER standing in this high-intensity battle royale experience set in the world of Final Fantasy VII.

President Shinra, in his effort to make Shinra Electric Power Company the untouchable force it's destined to become, has established the "SOLDIER Project." Join Shinra by becoming a SOLIDER candidate and utilize magic, special abilities, and more to triumph on the battlefield!

Key Features

Wield an Arsenal of Weapons and Magic – Utilize a wide variety of guns, melee weapons, and classic materia from Final Fantasy VII to overcome the competition! Find the combination that fits to your play style to gain the advantage over your opponents!
Master Class-Based Traits and Abilities – Choose from styles such as the Warrior, Sorcerer, or Monk, and master their unique traits and abilities. Unlock abilities and skills within each style and customize your own experience!
Take Down Ferocious Monsters – Defeat legendary Final Fantasy VII monsters to earn experience points and gil! Level up your chosen style in battle to unlock famous original Final Fantasy VII weapons and annihilate your enemies!
Experience a Unique Final Fantasy Battle Royale – Ride through battle on a chocobo, rain punishment on your enemies with classic Final Fantasy summons like Ifrit, and use materia to harness powerful spells!
Customize Outfits, Emotes, Skins, and More – You can obtain a variety outfits to change your look. Is Shinra more your style, or Avalanche? With a range of accessories, weapon and vehicle skins, emotes, and more, the customization options are endless!
Final Fantasy VII: The First Soldier is due out for iOS and Android in 2021. Read more about the game here and here.
Watch the Final Fantasy VII: The First Soldier Official Live Stream #0 archive featuring new gameplay footage below.