Take-Two Interactive to acquire Codemasters
Acquisition expected to be completed in the first quarter of 2021.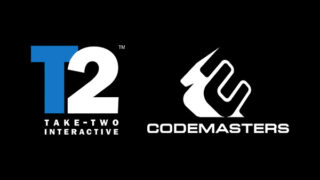 Following initial reports of interest, Take-Two Interactive has reached an agreement to acquire Codemasters and expects to complete the acquisition in the first quarter of 2021, the company announced.
"We are exceedingly pleased to announce this recommended transaction with the Board of Codemasters," said Take-Two Interactive chairman and CEO Strauss Zelnick in a press release. "Codemasters has a renowned history of creating some of our industry's most beloved and commercially successful racing franchises, and we believe that their offerings will be highly complementary to our sports portfolio and enhance further our organization's long-term growth. Moreover, we look forward to welcoming Codemasters' senior management and development teams into our Take-Two family, and sharing in our vision to deliver the highest quality entertainment experiences and aim to be the most innovative, creative and efficient company in our industry."
Codemasters chairman Gerhard Florin added, "With a leading position in sports gaming, the Board of Codemasters firmly believes the Company will benefit from Take-Two's broad capabilities which will help propel the long term success of Codemasters. In recommending this offer to shareholders, the Board of Codemasters believes it is in the best interests of all stakeholders in the Company. Take-Two's offer reflects the great work the management team has done since listing on AIM in 2018 at 200p and delivers an excellent return for shareholders in just two and a half years."
Take-Two Interactive's rationale for the acquisition is as follows:
Take-Two believes that the combination of Take-Two and Codemasters would bring together two world-class interactive entertainment portfolios, with a highly complementary fit between Take-Two's 2K label and Codemasters. Take-Two believes that it can bring benefits to Codemasters' performance by leveraging Take-Two's global distribution and marketing infrastructure, together with Take-Two's core operating expertise in live operations, analytics, product development, and brand and performance marketing.
The Take-Two Board believes there is a compelling strategic and financial rationale for the acquisition because it:

Creates a global leader in interactive entertainment publishing through the combination of Take-Two and Codemasters' complementary and critically-acclaimed sports and racing franchises and world-class creative teams;
Enhances diversity and revenue visibility of the Take-Two IP portfolio through the addition of Codemasters' regular title release cadence and high-quality racing titles;
Delivers compelling financial benefits for the combined entities – growth, earnings and operating margin accretive; and
Provides enhanced revenue opportunity and cost synergy potential.

The combination is expected to be accretive to Take-Two's pro forma adjusted net income per share (excluding Take-Two's customary adjustments used by its management and the Take-Two Board to adjust Take-Two's US GAAP financial results) from the first full fiscal year following completion of the acquisition, which is anticipated to be Take-Two's fiscal year 2022, ending March 31, 2022.
Frank Sagnier, Chief Executive Officer of Codemasters, and Rashid Varachia, Chief Financial Officer of Codemasters, along with the senior executive management team of Codemasters intend to remain with Codemasters following completion of the acquisition and will continue to lead the Codemasters business within Take-Two's organization and its 2K label.
Read more about the acquisition at the Take-Two Interactive official website.