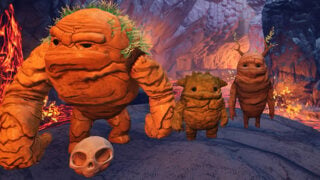 Publisher Modus Games and developer Finish Line Games have released a 10-minute gameplay spotlight video of puzzle adventure platformer Skully.
Here is an overview of the video and game, via Modus Games:
Today's video showcases the headstrong protagonist's ability to nimbly cross lush stretches of a sprawling island paradise, hopping across stepping-stone pathways with ease, and twisting through perilous caverns pooling with scorching lava. Aided by powerful new forms sculpted from the isle's pools of magical clay and an endearingly graceless ally named Terry, Skully always finds a way to clear (or crash through) obstacles, be they perplexing puzzles or impassable piles of stone.

Skully follows the peculiar journey of a skull brought back to life by an enigmatic deity desperate to save an island from the devastation it faces if Terry doesn't mend fences with his feuding siblings. Players will leverage clay-boosted powers as they tumble through the island's seven distinct ecosystems, conquering tricky platforming, encountering colorful locals, and outwitting environmental puzzles to discover the mystery at the heart of the land's bubbling quarrel.
Skully is due out for PlayStation 4, Xbox One, Switch, and PC via Steam on August 4.
Watch the footage below. View a new set of screenshots at the gallery.