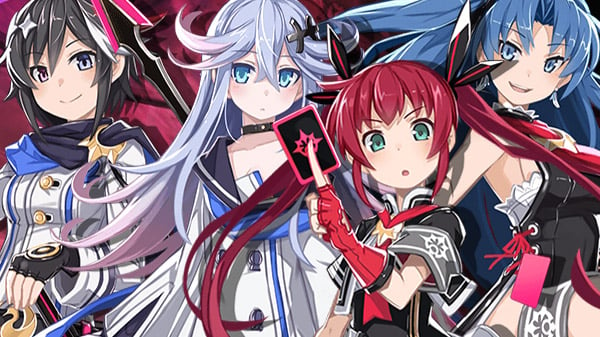 Compile Heart has updated the official website for 3D dungeon RPG Mary Skelter Finale with details on characters Otsuu, Little Mermaid, Thumbelina, and Cinderella, as well as the new "Zapping" system.
Get the details below.
■ Characters: Jack's Group

Otsuu (voiced by Rika Abe)

A former Nightmare Girl who lives for her beloved Little Mermaid.

Despite trying to become "Little Mermaid's true prince," she sometimes shows the bashful and soft side you would expect of someone her age.

In Mary Skelter 2, she hoped for a future in which Little Mermaid lives, which disrupted the balance of the world as a result.

It was Jack who saved her when she turned into an unsightly Nightmare and wished to reset the world in her regret.

After being able to live with Little Mermaid once more thanks to Jack's wish, Otsuu escapes from Jail and descends to the surface.

Little Mermaid (voiced by Aya Suzaki)

A wholeheartedly loyal girl who values the happiness of others more than her own.

Her and Otsuu vowed to marry each other.

She was originally supposed to be dead, but was resurrected by Otsuu's wish.

However, when she learned that others had to suffer as a result, she chose to accept her predetermined death.

She was saved once more by Jack, who restored the memory of the lost world, and resurrected at the Metropolitan Office.

After everyone is scattered by the onslaught of the Execution Girls, she takes aim at Jail alongside Jack and Otsuu.

■ Characters: Red Riding Hood's Group

Thumbelina (voiced by Rie Takahashi)

Although young in appearance, she is reliable, straightforward, and the oldest of three sisters.

But in front of Jack, she is unable to be herself and even takes an aggressive attitude.

She is extremely worried about her sisters, who have gone missing in the onslaught of the Execution Girls.

Alongside Red Riding Hood and Cinderella, who she was lucky enough to link up with, she sets her sights on the Foul Feeding Overseer Tower in search of her sisters.

Cinderella (voiced by Asami Imai)

A girl with a condescending and bratty tone.

Although she is has more confidence in herself thanks to Jack, her habit of getting depressed for some reason or another is still prevalent.

The intensity of her reactions is the same as ever.

She was separated from everyone by the onslaught of the Execution Girls, but safely links up with Red Riding Hood and Thumbelina.

■ System: Zapping System

New Element: Zapping System! Switch Between Protagonists in Real-Time and Make Your Way through the Tower Base!

There are multiple protagonists in Mary Skelter Finale, and you can switch between each protagonist's group in real-time via the new "Zapping System."

—A jailbreak drama where six protagonists (Jack, Mary Juu, Red Riding Hood, Clara, and Shira) cross paths! And there may be even more protagonists…!

Explore the same dungeon while not being aware of each other's presence. Use your wits to navigate each protagonist, and guide them through paths otherwise impossible to tread.

—By pressing the Zapping button while exploring a dungeon, you can switch between each protagonist's group. On the Zapping screen, you can see various information such as the location of that group and the amount of treasures in their location.

As you progress, there may be points that you can no longer move forward. If you feel like you can no longer progress because of a dead end, switch to another protagonist and explore. By solving puzzles, you can open a door for another protagonist's group, allowing them to progress. Make your way through the dungeon while switching between various protagonists to advance each story.

—By activating contraptions, protagonists you aren't controlling will notice! Switch to them to reveal more!

By utilizing the Zapping System, you can solve puzzles, obtain treasures you normally would not have discovered, and more. Progress through the dungeon while switching between various protagonists!

New Element: Give the Items You Pick Up to Another Protagonist's Group! Prepare for Battle with the Item Dumpster!

The Item Dumpster is a dumpster that can be found in each dungeon. By putting the items and equipment possessed by each protagonist's group in the box, you can transfer items to the groups of other protagonists.

There may even be places you can only go by transferring items…

■ Sound

Background Music Samples
Mary Skelter Finale is due out for PlayStation 4 and Switch on August 27 in Japan. Read more about the game here, here, here, and here.