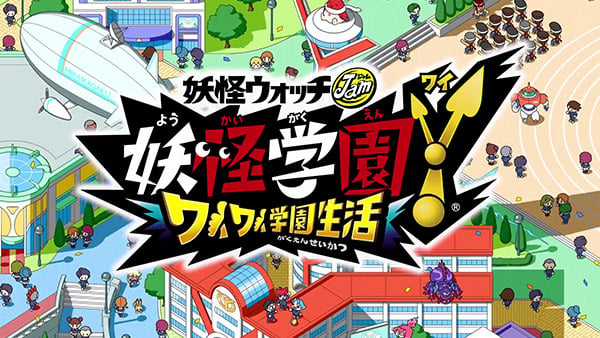 Level-5 has released a Japanese TV commercial for Yo-kai Watch Jam: Yo-kai Academy Y – Waiwai Gakuen Seikatsu, as well as relaunched the game's official website.
The website currently features overview, world, character, battle, and video pages. Here are a few new details, via the overview and world pages:
■ A Day in the Life of an Academy Y Student

Head to School – Head to the main school building from the student dormitory. Make sure not to oversleep!
Class Time – After you get to the main school building, it is time for class. Study hard!
Freestyle Time – When class is over, it is Freestyle Time, allowing you to do whatever you like. Make the most of your free time!
School Day Ends  – Return to the student dormitory before curfew.
Nighttime – If all that playing has made you sleepy, then rest up. But that is not all you can do…

School Life

Make friends.
Gather friends.
Get involved in events.
etc.

Exploration

Secret places.
Dungeons.
Seek out onryo.
etc.

School at Night

At night, the school is full of onryo. By sneaking out of the student dormitory, you can stealthily explore the school…

■ Academy City

Academy Area – The area where facilities necessary for student learning such as the main school building and gymnasium are located.
Industrial Area – An area crowded with factories. And even some dangerous places…
Residential Area – The student living area where the student dormitory and park are located. Some students appear to live in separate houses.
Natural Area – An area rich in nature, including a desert and forest.
Business Area – From a huge supermarket to individual shops, this is the area to shop.
Y-Circle – A mysterious building that suddenly appeared during the construction of the academy 30 years ago. It remains unknown who established it or what it is for, and is currently one of the school's biggest mysteries.
Yo-kai Watch Jam: Yo-kai Academy Y – Waiwai Gakuen Seikatsu is due out for PlayStation 4 and Switch this summer in Japan. Read more about the game here and here.
Watch the TV commercial below.