A Hat in Time DLC 'Nyakuza Metro + Online Party' announced for PC
Due out on May 10 for $6.99.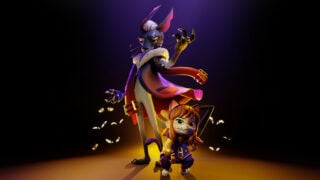 Gears for Breakfast has announced A Hat in Time downloadable content "Nyakuza Metro + Online Party," which is due out for the PC version of the game on May 10 for $6.99.
Here is an overview of the add-on, via its Steam page:
About

Welcome to the deep underground Nyakuza Metro! It's the perfect place for a little lying, a little cheating… a little stealing. Join the Nyakuza and become mad rich – joining a gang never turned out bad, right?

Nyakuza Metro introduces an all-new chapter with 10 new Time Pieces, a new sticker system, new flairs, new dyes, a new weapon, a new purple Time Rift and more!

Online Party allows you to play online with your friends, in groups of up to 50 players!

Nyakuza Metro + Online Party is 100 percent free for all Kickstarter backers, check your backer e-mail for a key on the release date.

Nyakuza Metro Key Features

10 New Time Pieces!
Stickers! Stickers can be attached to your weapon, used with the Camera Badge, or as emotes!
A new weapon: The Baseball Bat!
A new Purple Time Rift: Rumbi Factory!
New flairs, including the Nyakuza Mask, Burger Cap, Artistic Vision, and more!
Two new camera filters!
Two new badges!
Over 20 new dyes, including Wireframe, Pizza Time, and more!

Online Party Key Features

Friends: Play in groups of up to 50 players by entering a group name!
Public: Play with three other strangers who can see you, but cannot affect you!
Use your new stickers to communicate as emotes!
Mess with each other! You can hit, explode, shake and play catch with each other, and more!
Clear Time Rifts together as your progress is combined!

(Note: Some game features are deliberately not synced in Online Party, to avoid griefing.)
A Hat in Time is available now for PlayStation 4, Xbox One, and PC, and is coming soon for Switch.
Watch the "Nyakuza Metro + Online Party" add-on trailer below.