Ys VIII for PS4 details new character Io, Lastel
(She's the new girl that appears on the box art.)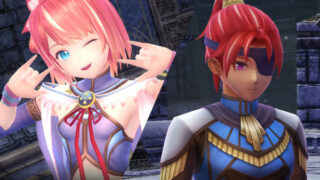 Falcom has released new screenshots and details on two characters set to appear in the PlayStation 4 version of Ys VIII: Lacrimosa of DANA.
Io is a new character that appears for the first time in the PlayStation 4 version of the game, while Lastel is a character that previously appeared with a deep connection to Dana, the game's second protagonist.
Get the information below.
Io (voiced by Aoi Yuuki, age unknown)

"Hehehe, I still haven't played enough. I guess today I'll follow that tomboy shrine maiden I keep hearing about."

An innocent girl with light pink hair who appears before Dana.

Although she has a tidy appearance, she sometimes speaks with a shamelessly self-important tone, and sometimes causes trouble involving Dana.

She proposes to Dana, who has shown interest in the royal capital Etania's underground cathedral, that they investigate the interior together, but…

Lastel (voiced by Kouhei Amasaki, age unknown)

"As the son of Doran, leader of the guards, I will see that I protect the shrine maiden until the very end."

An honest and diligent young guard of the royal capital Etania

He has admired his father Doran, the leader of the guards, since childhood, and trained as a guard alongside his father to one day become a guard that can be respected.

After he matured, he joined the royal capital military as a guard. Dreaming of working as Dana's guard, he strives to carry out his duties, but a certain event moves Lastel's destiny in an unexpected direction.
Ys VIII: Lacrimosa of DANA is due out for PlayStation 4 in Japan on May 25, and for PlayStation 4, PS Vita, and PC in North America and Europe this fall. The PS Vita version is already available in Japan.
View the screenshots at the gallery.