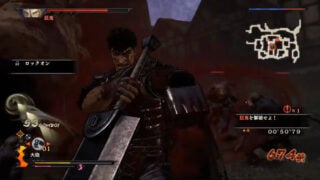 Several minutes of gameplay footage from Berserk and the Band of the Hawk have come out of Tokyo Game Show 2016.
Here's an overview of the game, via Koei Tecmo:
Berserk and the Band of the Hawk follows the compelling tale of the famed mercenary group The Band of the Hawk, focusing on its diverse cast of characters and their struggles as they fight to achieve their dream of owning a kingdom. Berserk fans and newcomers alike will experience the series' popular Golden Age story arc, which depicts the meeting between the leader of The Band of the Hawk, Griffith, and the legendary Black Swordsman, Guts, through to the gripping Falcon of the Millennium Empire arc, in which players will experience the group's most brutal and devastating battles against humans and demons alike.
Berserk and the Band of the Hawk is due out for PlayStation 4, PS Vita, and PC on February 21 in North America and February 24 in Europe. In Japan, the game will launch on October 27 for PlayStation 4, PlayStation 3, and PC.
Watch the footage below.