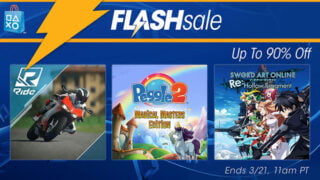 Sony Computer Entertainment America is holding a PlayStation Network flash sale this weekend with up to up to 90 percent off rarely discounted titles. Notable titles include Sword Art Online Re: Hollow Fragment (PS4) for $4.99 (normally $19.99), JoJo's Bizarre Adventure: All-Star Battle (PS3) for $4.49 (normally $29.99), and Hyperdimension Neptunia Re;Birth 1 and 2 for $8.99 each (normally $29.99 each).
The flash sale starts today and ends at 11:00 a.m. PT on Monday, March 21.
Get the full list of discounts below. Visit the sales page here.
| Platform | Title | Sale Price | Original Price |
| --- | --- | --- | --- |
| PS4 | Abyss Odyssey: Extended Dream Edition | $4.49 | $14.99 |
| PS4 | Air Conflicts Vietnam Ultimate Edition | $5.99 | $29.99 |
| PS4 | Counterspy (Cross-Buy) | $4.49 | $14.99 |
| PS4 | Duck Dynasty | $14.49 | $49.99 |
| PS4 | Entwined | $2.99 | $9.99 |
| PS4 | Flow (Cross-Buy) | $1.79 | $5.99 |
| PS4 | Giana Sisters: Twisted Dreams: Director's Cut | $2.99 | $14.99 |
| PS4 | Home – A Unique Horror Adventure (Cross-Buy) | $0.99 | $4.99 |
| PS4 | Ironclad Tactics | $4.49 | $14.99 |
| PS4 | Lets Sing 2016 | $9.99 | $39.99 |
| PS4 | Loot Action-Packed Bundle | $4.99 | $19.99 |
| PS4 | Mercenary Kings | $3.99 | $19.99 |
| PS4 | Motogp 14 | $11.99 | $59.99 |
| PS4 | Peggle 2 Magical Masters Edition | $1.49 | $14.99 |
| PS4 | Project Root (Cross-Buy) | $2.49 | $9.99 |
| PS4 | Pure Chess Complete Bundle | $5.99 | $19.99 |
| PS4 | Ride | $10.19 | $59.99 |
| PS4 | Steamworld Dig (Cross-Buy) | $2.99 | $9.99 |
| PS4 | Strider | $3.74 | $14.99 |
| PS4 | Styx: Master Of Shadows | $8.99 | $29.99 |
| PS4 | Sword Art Online Re: Hollow Fragment | $4.99 | $19.99 |
| PS4 | The Swapper (3-Way Cross-Buy) | $1.49 | $14.99 |
| PS4 | Tour De France 2014 Season 2014 (Cross-Buy) | $8.99 | $29.99 |
| PS4 | Transformers Devastation | $17.49 | $49.99 |
| PS4 | Zen Pinball 2 – Marvel's Ant-man (3-Way Cross-buy) | $0.98 | $2.99 |
| PS4 | Zombie Vikings | $7.99 | $19.99 |
| PS4 | Zotrix | $3.74 | $14.99 |
| PS3 | Tales Of Monkey Island Bundle | $4.99 | $19.99 |
| PS3 | Adam's Venture Chronicles | $7.49 | $29.99 |
| PS3 | Air Conflicts: Pacific Carriers | $4.99 | $19.99 |
| PS3 | Alice: Madness Returns Ultimate Edition | $1.99 | $19.99 |
| PS3 | Arcania The Complete Tale | $2.99 | $19.99 |
| PS3 | Atomic Ninjas: Complete Edition | $0.79 | $7.99 |
| PS3 | Back To The Future: The Game – Full Series | $4.99 | $19.99 |
| PS3 | Bejeweled 3 | $1.49 | $4.99 |
| PS3 | Bionic Commando Rearmed 2 | $1.99 | $9.99 |
| PS3 | Bionic Commando: Rearmed | $1.99 | $9.99 |
| PS3 | Blowout (PS2 Classic) | $0.99 | $9.99 |
| PS3 | Brothers In Arms: Hell's Highway | $8.99 | $29.99 |
| PS3 | Cabela's Big Game Hunter Pro Hunts | $7.49 | $29.99 |
| PS3 | Call Of Juarez: Bound In Blood | $4.99 | $19.99 |
| PS3 | Call Of Juarez: Gunslinger | $4.49 | $14.99 |
| PS3 | Capcom Combo Pack | $5.99 | $29.99 |
| PS3 | Capcom Super Pack | $9.99 | $49.99 |
| PS3 | Castlevania Chronicles (PS One Classic) | $1.49 | $5.99 |
| PS3 | Command & Conquer: Red Alert (PS One Classic) | $1.49 | $5.99 |
| PS3 | Counterspy (Cross-Buy) | $4.49 | $14.99 |
| PS3 | Deadly Premonition: The Directors Cut | $4.99 | $19.99 |
| PS3 | Digimon All – Star Rumble | $2.99 | $19.99 |
| PS3 | Dirt 3 | $4.99 | $19.99 |
| PS3 | Duck Dynasty | $9.59 | $39.99 |
| PS3 | EA Sports Mma Digital | $1.99 | $19.99 |
| PS3 | Entwined | $2.99 | $9.99 |
| PS3 | Explodemon! | $0.99 | $9.99 |
| PS3 | Extreme Pinball (PS One Classic) | $1.49 | $5.99 |
| PS3 | F1 Race Stars | $5.99 | $19.99 |
| PS3 | Fast & Furious: Showdown | $9.59 | $39.99 |
| PS3 | Fatal Frame (PS2 Classic) | $0.99 | $9.99 |
| PS3 | Fatal Frame II: Crimson Butterfly (PS2 Classic) | $0.99 | $9.99 |
| PS3 | Fatal Frame III: The Tormented (PS2 Classic) | $0.99 | $9.99 |
| PS3 | Fighting Force (PS One Classic) | $1.49 | $5.99 |
| PS3 | Final Fight/Double Impact | $2.99 | $9.99 |
| PS3 | Flashback | $0.99 | $9.99 |
| PS3 | Flow | $1.79 | $5.99 |
| PS3 | Foosball 2012 Ultimate Foosball Bundle | $0.59 | $2.99 |
| PS3 | Galaga Legions DX | $0.99 | $9.99 |
| PS3 | Game Of Thrones | $1.99 | $19.99 |
| PS3 | Grid 2 | $8.99 | $29.99 |
| PS3 | Grid 2 – Reloaded | $7.99 | $39.99 |
| PS3 | Grid: Autosport | $8.99 | $29.99 |
| PS3 | Grid: Autosport: Grid Autosport Season Pass | $8.99 | $29.99 |
| PS3 | Heavenly Guardian (PS2 Classic) | $1.99 | $9.99 |
| PS3 | JoJo's Bizarre Adventure: All-Star Battle | $4.49 | $29.99 |
| PS3 | Klonoa : Door To Phantomile (PS One Classic) | $1.79 | $5.99 |
| PS3 | Le Tour De France – Season 2014 (Cross-Buy) | $8.99 | $29.99 |
| PS3 | Lights Camera Party! | $1.49 | $14.99 |
| PS3 | Lights Camera Party! (DLC Pack 1) | $0.99 | $4.99 |
| PS3 | Lost Planet 3 | $4.99 | $19.99 |
| PS3 | Madden NFL Arcade | $0.99 | $9.99 |
| PS3 | Manhunt (PS2 Classic) | $0.99 | $9.99 |
| PS3 | Medal Of Honor Frontline | $0.99 | $9.99 |
| PS3 | Mega Man X4 | $1.49 | $5.99 |
| PS3 | Mega Man X5 | $1.49 | $5.99 |
| PS3 | Men In Black Alien Crisis | $9.59 | $39.99 |
| PS3 | Motogp 2014 | $3.99 | $19.99 |
| PS3 | Namco Museum Essentials | $1.49 | $9.99 |
| PS3 | Noby Noby Boy | $1.49 | $4.99 |
| PS3 | Oddworld: Munch's Oddysee HD | $0.99 | $9.99 |
| PS3 | Of Orcs and Men | $5.99 | $19.99 |
| PS3 | Pac-man World 20th Anniversary (PS One Classic) | $1.49 | $5.99 |
| PS3 | Pid | $0.99 | $9.99 |
| PS3 | Prince Of Persia Classic | $0.99 | $9.99 |
| PS3 | Prince Of Persia: The Forgotten Sands | $1.99 | $19.99 |
| PS3 | Prince Of Persia: The Two Thrones | $1.49 | $14.99 |
| PS3 | Prince Of Persia: Warrior Within | $1.49 | $14.99 |
| PS3 | Rayman (PS One Classic) | $1.49 | $5.99 |
| PS3 | Rayman 2: The Great Escape (PS One Classic) | $1.49 | $5.99 |
| PS3 | Rayman 3 HD | $0.99 | $9.99 |
| PS3 | Remember Me | $8.99 | $29.99 |
| PS3 | Ride | $9.99 | $39.99 |
| PS3 | Risen 3 Titan Lords – Complete Edition | $9.99 | $39.99 |
| PS3 | Risen 3: Titan Lords | $8.99 | $29.99 |
| PS3 | Rock Band Blitz | $4.49 | $14.99 |
| PS3 | R-type Dimensions | $2.99 | $9.99 |
| PS3 | Rune Factory: Tides Of Destiny | $8.99 | $29.99 |
| PS3 | Sam & Max: Beyond Time And Space – Full Season | $1.99 | $19.99 |
| PS3 | Sam & Max: The Devil's Playhouse | $1.99 | $19.99 |
| PS3 | Shaun White – Snowboarding | $4.99 | $19.99 |
| PS3 | Shaun White Skateboarding | $4.99 | $19.99 |
| PS3 | Silent Hill (PS One Classic) | $1.49 | $5.99 |
| PS3 | Soldner-x 2: Final Prototype Complete Bundle | $2.59 | $12.99 |
| PS3 | Soldner-x: Himmelssturmer | $1.59 | $7.99 |
| PS3 | Spelunker HD | $2.99 | $9.99 |
| PS3 | Spelunker HD Ultimate Edition | $4.24 | $16.99 |
| PS3 | Spongebob Squarepants: Plankton's Robotic Revenge | $7.49 | $29.99 |
| PS3 | Stardrone (Cross-Buy) | $0.99 | $3.99 |
| PS3 | Strider | $3.74 | $14.99 |
| PS3 | Strider 2 (PS One Classic) | $1.49 | $5.99 |
| PS3 | Superfrog HD (Cross-Buy and Cross-Play) | $0.99 | $9.99 |
| PS3 | The Swapper (3-Way Cross-Buy) | $1.49 | $14.99 |
| PS3 | The Walking Dead Survival Instinct | $9.49 | $49.99 |
| PS3 | Thief – Digital Bundle | $2.99 | $29.99 |
| PS3 | Tony Hawk Pro Skater HD | $4.49 | $14.99 |
| PS3 | Toybox Turbos | $4.49 | $14.99 |
| PS3 | Transformers Devastation | $17.49 | $49.99 |
| PS3 | Worms | $3.89 | $12.99 |
| PS3 | Worms 2: Armageddon | $4.49 | $14.99 |
| PS3 | Worms Ultimate Mayhem | $4.49 | $14.99 |
| PS3 | Xblaze Lost: Memories | $11.99 | $39.99 |
| PS3 | Zen Pinball 2 – Marvel's Ant-man (3-Way Cross-buy) | $0.98 | $2.99 |
| PS3 | Zeno Clash 2 | $2.99 | $14.99 |
| PS Vita | Bombing Busters (Cross-Buy) | $2.09 | $6.99 |
| PS Vita | Code: Realize ~Guardian Of Rebirth~ | $11.99 | $39.99 |
| PS Vita | Counterspy (Cross-Buy) | $4.49 | $14.99 |
| PS Vita | Entwined | $2.99 | $9.99 |
| PS Vita | Farming Simulator 14 | $8.99 | $29.99 |
| PS Vita | Flow | $1.79 | $5.99 |
| PS Vita | Furmins | $1.49 | $5.99 |
| PS Vita | Hyperdimension Neptunia Re;Birth 1 | $8.99 | $29.99 |
| PS Vita | Hyperdimension Neptunia Re;Birth 2 | $8.99 | $29.99 |
| PS Vita | Metrico | $2.79 | $13.99 |
| PS Vita | Mind Zero | $7.49 | $24.99 |
| PS Vita | Monster Monpiece | $1.99 | $19.99 |
| PS Vita | Motogp 14 | $3.99 | $19.99 |
| PS Vita | Muramasa Rebirth | $7.49 | $24.99 |
| PS Vita | Norn9: Var Commons | $11.99 | $39.99 |
| PS Vita | Oddworld Stranger's Wrath | $2.99 | $14.99 |
| PS Vita | Project Root (Cross-Buy) | $2.49 | $9.99 |
| PS Vita | Reel Fishing: Master's Challenge | $5.99 | $19.99 |
| PS Vita | Smart As… | $4.04 | $13.49 |
| PS Vita | Soldner-x 2: Final Prototype Complete Bundle (Cross-Buy) | $2.59 | $12.99 |
| PS Vita | Stardrone Extreme (Cross-Buy) | $0.99 | $3.99 |
| PS Vita | Steamworld Dig (Cross-Buy) | $2.99 | $9.99 |
| PS Vita | Super Stardust Delta | $2.99 | $9.99 |
| PS Vita | Superfrog HD (Cross-Buy and Cross-Play) | $0.99 | $9.99 |
| PS Vita | Surge Deluxe | $0.99 | $4.99 |
| PS Vita | The Amazing Spiderman | $9.59 | $39.99 |
| PS Vita | The Swapper (3-Way Cross-Buy) | $1.49 | $14.99 |
| PS Vita | Total Recoil | $0.99 | $2.49 |
| PS Vita | Worms Revolution Extreme | $4.49 | $14.99 |
| PS Vita | Zen Pinball 2 – Marvel's Ant-man (3-Way Cross-buy) | $0.98 | $2.99 |
| PSP | Capcom Classics Collection Reloaded | $1.99 | $9.99 |
| PSP | Chameleon | $1.19 | $3.99 |
| PSP | Elminage Original | $3.74 | $14.99 |
| PSP | End Of Serenity | $4.49 | $14.99 |
| PSP | Harvest Moon: Hero Of Leaf Valley | $4.99 | $19.99 |
| PSP | Kurulin Fusion | $1.49 | $4.99 |
| PSP | Me And My Katamari | $2.24 | $14.99 |
| PSP | Mystic Chronicles | $4.49 | $14.99 |
| PSP | Prince Of Persia: Revelations | $0.99 | $9.99 |
| PSP | Prince Of Persia: Rival Swords | $0.99 | $9.99 |
| PSP | Prince Of Persia: The Forgotten Sands | $1.99 | $19.99 |
| PSP | Ridge Racer | $2.24 | $14.99 |
| PSP | Strikers 1945 Plus | $1.49 | $4.99 |
| PSP | Warriors Of The Lost Empire | $1.79 | $5.99 |