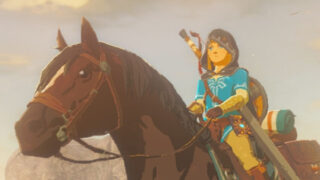 On February 22, a NeoGAF user posted a thread containing reportedly source-verified information about Nintendo's 3DS plans for 2016. One of the listings was for a 20th anniversary Pokemon game code-named "Niji" due out this holiday.
Today, Nintendo announced Pokemon Sun and Pokemon Moon. The logo images included with the press release are titled "Niji_A_logo" and "Niji_B_logo," respectively. Thus, we can now look at this report with more credence.
First, here's the list of Nintendo-funded 3DS games planned for 2016, according to the user's source:
Spring to Early Summer

Mario & Sonic at the Rio 2016 Olympic Games
Nintendo Selects Wave 1
Hyrule Warriors: Legends
Disney Art Academy
Bravely Second: End Layer
Code Name: "Caviar F" (a smaller budget game for all ages)
Metroid Prime: Federation Force

Summer

Code Name: "Torte City" (a big budget game for all ages)
Dragon Quest VII: Fragments of the Forgotten Past
Code Name: "Cadillac" (a smaller budget game for all ages / late summer)

Fall to Holiday

3DS Hardware price cut
Code Name: "N-Stars" (a big budget game for all ages)
Nintendo Selects Wave 2
Code Name: "DMW2" (possibly Disney Magical World 2)
Dragon Quest VIII: Journey of the Cursed King
Pokémon 20th Anniversary Game "Niji"
The source also claimed that the new The Legend of Zelda game will be a holiday 2016 release for Nintendo's new platform, code-named NX, and will either launch day and date with the Wii U version, or shortly after during the NX holiday launch window. NX launch games for 2016 besides The Legend of Zelda, as well as its marketing focus, remain hidden for now.
If numbers are your thing, the source also shared some marketing budgets:
Wii U has a marketing budget of $34.5 million for 2016. $10 million of that budget belongs to The Legend of Zelda for Wii U, with the possibility of it being switched to the NX version depending on launch timing in 2016.
3DS has a marketing budget of $56.25 million for 2016.
Nintendo plans to fully reveal NX at some point this year. Super Smash Bros. is also rumored to be launching with the platform.