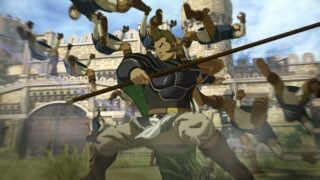 Kubard, Tus, Zaravant, and Esfan will be playable in Arslan: The Warriors of Legend, Koei Tecmo announced.
The publisher released a new set of screenshots introducing the characters, as well as new stages "Village Rescue" (Pars Village) "Zarbule Castle Battle" (Zarbule Castle), and "Saint Emmanuel Castle Skirmish / Battle" (Saint Emmanuel Castle).
Additionally, the latest in the game's series of 'action introduction' trailers showcase characters Jaswant and Kishward. Previous Arslan: The Warriors of Legend gameplay videos have introduced the actions of Daryun, Gieve, Elam, Arslan and Farangis, and Narsus and Alfreed.
Arslan: The Warriors of Legend is due out for PlayStation 4 and PlayStation 3 in Japan on October 1, and in North America and Europe with an added Xbox One version in early 2016.
Watch the footage below. at the gallery.
Jaswant
Kishward