Dynasty Warriors 8: Empires coming to PS Vita
PS Vita version includes all DLC from console versions.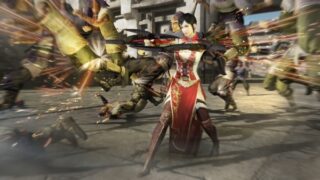 Dynasty Warriors 8: Empires is coming to PS Vita, the latest issue of Famitsu reveals.
The game, the Empires adaptation of Dynasty Warriors 8: Xtreme Legends, launched for PlayStation 4, PlayStation 3, and Xbox One in Japan in November 2014, following by a February 2015 release in North America and Europe (with an added PC version).
The PS Vita version will include all of the downloadable content that has come out for the console release, as well as a new ad-hoc "Raid Scenario" mode in addition to the traditional online feature.
Raid Scenario is a high difficulty co-op mode with special rules. Enemies will be very strong in this mode, and you can freely configure your weapons, plans, and items. Clearing the scenario alone will prove very difficult. A free-to-play "Co-Op Version" will also be released (presumably so friends who don't have the game can play with friends who do—think 3DS Download Play).
An "Edit Mode Demo Version" of the game will be released prior to the game's launch, and the full retail version will be compatible with its data.
A release date was not announced.
Thanks, Hachima Kikou.