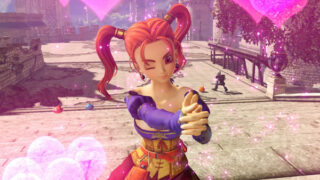 Following our look at Alena and Kiryl's special abilities, this week's Dragon Quest Heroes screenshots highlight Jessica and Yangus' special abilities.
Here's a quick overview:
Jessica

Equipment: Whip
Special Ability: Magic Burst

As a gifted magician, Jessica is naturally skilled with spells. But she's also good with a whip. Her special moves showcase her sex appeal and are a sight to see.

Abilities:

Crack – Pierces the enemy with blades of sharp ice. In rare cases, it will also freeze the enemy, preventing them from moving.
Sexy Beam – A lovely beam that strikes the enemy and causes them to fall madly in love with her.
Magic Burst – Releases all of her magic in a burst of purple fire to deal great damage to Jessica's surrounding enemies.

Yangus

Equipment: Ax
Special Ability: Axe Musou

Yangus appears full of power and attacks with an axe. Because most of his sheer strength, he is the strongest class of all the playable characters.

Abilities:

Whistle – A special skill that attracts surrounding demons, allowing Yangus to strike a herd of enemies with one swing of his ax.
Sky Blue Demon Strike – Yangus' ax glows sky blue and lets him cut the enemy with a single strike. The impact will reach even far away enemies.
Ax Musou – Create a huge tornado powerful enough to lift the heavyweight Yangus into the air and strike surrounding enemies.
Additionally, you'll see images of the Gigantes, Dancing Jewel, Killer Panther, King Slime, and Metal Slime monsters.
Dragon Quest Heroes is due out for PlayStation 4 and PlayStation 3 in Japan on February 26. View the screenshots at the gallery.