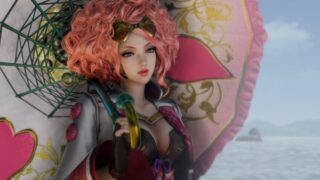 Famitsu this week details a new chapter set to appear in Samurai Warriors 4-II.
The "Gathering of Flowers Chapter" sees Ii Naotora's request for 'wanting to become a cute girl' granted, as Gracia teams up with Koshosho to fulfill it. Naturally, it will feature female warlords in full force, as well as a bath scene.
By clearing both this chapter and Koshosho's chapter, you'll get the battle ready bath towel costume, just as it appeared in the chapters' event scenes.
Despite its make, the bath towel costume is said to be considerably strong.
Samurai Warriors 4-II is due out for PlayStation 4, PlayStation 3, and PS Vita in Japan on February 11.
Thanks, Hachima Kikou.