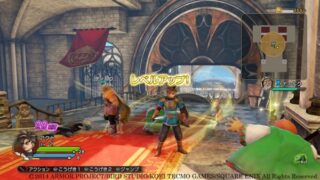 Square Enix has released a new set of Dragon Quest Heroes screenshots detailing the basics of the game's battle system.
Find the details below.
Prepare at Camp

At the start of your adventure, you'll be based at a camp site. Here, you'll find all sorts of facilities, including a weapon shop.

Choose Your Destination

From the world map screen you'll select your preferred destination. Once you visit a stage, you can play it again any number of times after.

Attack

On the battlefield, there will be monsters as far the eye can see. Wipe out enemies in cooperation with your fellow heroes.

Clear Stages

Each stage will have its own clear conditions. Some will have formidable enemies. After clearing the stage, you'll return to your base.

Shortcuts to Victory: The Points of Battle

Players will become Akuto and company, who are tasked with defending the towns, villages, and such of the Elsarse Kingdom, which has been occupied by monsters.

Level-Up to Defeat the Enemy – During your adventure, you might loose a few battles. But there is an upside. As you defeat enemies, your character will grow. If raise your character's level and continue to challenge these enemies, you'll be able to defeat them in due time.
Switch Between Characters – Organize your party of up to four characters. Switch between characters with a single button and freely control each character.
Special Moves are the key to Victory – Once your Tension Gauge reaches 100 percent, which is accumulated by attacking enemies, you'll have the chance to activate a Special Move like Akuto's "Giga Slash." Useful in a pinch, these attacks can damage surrounding enemies in a single swoop.
Dragon Quest Heroes is due out for PlayStation 4 and PlayStation 3 in Japan on February 26. View the screenshots at the gallery