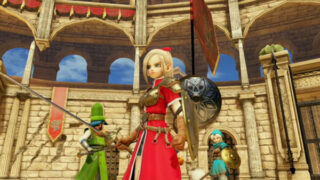 Dragon Quest Heroes will launch for PlayStation 4 and PlayStation 3 in Japan on February 26, 2015, Square Enix announced during today's "Dragon Quest Heroes TV" live stream.
The PlayStation 4 version will cost 7,800 yen and run at 60 frames per second, while the PS3 version will cost 6,800 yen and run at 30 frames per second.
First-print copies of the game include Dragon Quest III costumes for the protagonists. Because the series' protagonists aren't going to show up in the game, the two protagonists will be able to wear their costumes instead, according to Dragon Quest creator Yuji Horii. A "dodgy swimsuit" is also under consideration.
Pre-orders will open at 18:00 Japan time today. Depending on where you pre-order, you'll get a different reservation bonus:
Square Enix e-Store – Slime Sword (one-handed sword for Akuto, Meer, and Terry)
Amazon Japan – Slime Axe (axe for Yangus)
Aeon – Slime Edge – (boomerang for Julietta)
Game Tsutaya and Tsutaya Online – Slime Arrow (bow-and-arrow for Bianca)
Lawson – Slime Glove (combat glove for Alena)
The "Dragon Quest Metal Slime Edition" PlayStation 4 will launch on December 11 for 49,980 yen. It will include a Dragon Quest-themed silver PlayStation 4 with a 500 gigabyte hard-drive, an accompanying Metal Slime to sit atop it, a silver controller, 15 free days of PlayStation Plus, a download code for a PlayStation 4 original theme, and a product code to download Dragon Quest Heroes a day before its official release date on February 25. Pre-orders also open at 18:00 today.
https://www.youtube.com/watch?v=3lNicTn0Vdw https://www.youtube.com/watch?v=mPI2l9Aha4M
(Above: Promotions for the "Metal Slime Edition" PS4.)
The game's voice cast is made up of talent ranging from Rie Kugimiya, known for her role as Rise Kujikawa in Persona 4, to Shoko Nakagawa, the presenter of Japan's weekly Pokemon Sunday.
Here's the current list of revealed actors:
Akuto (Male Protagonist) – Tori Matsuzaka
Meer (Female Protagonist) – Mirei Kiritani
King Dirk – Banjo Ginga
Julietta – Mikako Komatsu
Homiron – Rie Kugimiya
Alena (Dragon Quest IV) – Shoko Nakagawa
Kiryl (Dragon Quest IV) – Hikaru Midorikawa
Maya Mahabala (Dragon Quest IV) – Miyuki Sawashiro
Terry (Dragon Quest VI) – Hiroshi Kamiya
Voice samples are available at the official Dragon Quest Heroes website.
https://www.youtube.com/watch?v=pElKgVEKshQ https://www.youtube.com/watch?v=E4vcluutdtA
(Above: Interviews with Tori Matsuzaka, Mirei Kiritani, and Shoko Nakagawa.)
The November 17-due issue of Weekly Jump will reveal the voice actors for Bianca, Nera, Jessica, and Yangus. A trailer featuring the voice cast will debut at Jump Festa in December.
In the game players can choose an area to visit on the world map, and from there get into fights by choosing a specific battle to enter. Square Enix first showcased a battle featuring Alena and Kiryl. Alena is capable of creating clones of herself, an ability that can be triggered either automatically or manually at the player's discretion.
During combat, players can get experience points and level up. Spells and special moves are triggered by holding L1 and then pressing one of the face buttons. Standard attacks are performed with the Square and Triangle buttons, and a knockout attack is tied to the Circle button.
At the end of the map during the first battle, a Golem fight takes place, showcasing how items can be gathered by smashing pots, as well as how special moves can be pulled off after building up a gauge by pressing circle. The mission promptly ends once the Golem is defeated.
The demo moved on to a second fight featuring Alena, Meer, Terry, and Kiryl against a group of three Killer Machines. During battles, players can swap characters by pressing the R2 trigger, which will cycle through the party in order, allowing players to adopt different tactics as fights unfold. When the opposition was whittled down to just one Killer Machine, it became especially aggressive, sporting increased agility and using sweeping attacks with wide arcs. Although Alena ended up getting knocked out, Kiryl was able to revive her by approaching her and hitting circle. Meer, meanwhile, was able to pick up a mysterious trumped, which got energized and able to pull off a Giga Slash as a special attack and ending the battle summarily.
Dragon Quest Heroes is an action RPG published by Square Enix and developed by Koei Tecmo subsidiary Omega Force.
View a new set of screenshots at the gallery.
Story by Sal Romano and Thomas James.