Persona Q English character trailers: Yukiko and Shinjiro
Prim and proper, and stoic and strong.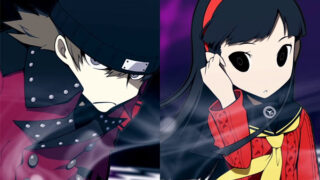 The latest set of character trailers for Persona Q: Shadow of the Labyrinth introduce Yukiko Amagi and Shinjiro Aragaki.
Persona 4's Yukiko "excels in back-line support with her ranged fan attacks and the fire and healing spells from her Persona Konohana Sakuya," according to Atlus. But her frailness means you'll need a proper sub-Persona to complement her low HP.
Persona 3's Shinjiro Aragaki, on the other hand, is a "is a strong, front-line brawler" with the philosophy of "talk soft and carry a big mallet." His Persona Castor allows him to perform "devastating physical attacks."
Watch both clips below. The 3DS dungeon RPG is due out on November 25 in North America and November 28 in Europe.
Yukiko Amagi
Shinjiro Aragaki