Hatsune Miku project lead on the series coming to PS4
Utsumi thinks it's a "very fine" and 'motivating' piece of hardware.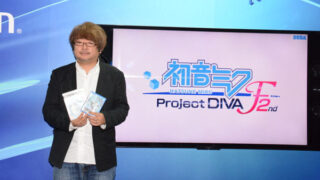 Famitsu caught up with Hatsune Miku Project DIVA F 2nd project manager Hiroshi Utsumi at the Taipei Game Show to discuss the series' potential to come to PlayStation 4.
It started when Utsumi was asked if Sega would implement something similar to the scratch slider found in the arcade version of Hatsune Miku in the PlayStation 3 version of Hatsune Miku: Project DIVA F 2nd. Utsumi replied that, "There aren't plans, but I think the PlayStation 4's DualShock 4 touch pad could be interesting."
Pressing the matter further, Famitsu asked if there were any plans for a PlayStation 4 version of Hatsune Miku: Project DIVA F 2nd. Or if the team has any plans for the series on PlayStation 4 in the future.
"For the time being, whether or not we make a sequel is dependent upon sales of this project, Project DIVA F 2nd," Utsumi said. "But various preparations are underway, and we're also putting PS4 in our outlook. It also depends on the differences between the three platforms—PS3, PS4 and PS Vita. We need to consider different things also, should we port this title or not? Or should we also make the next game in the series for PS4 or not? When development settles down, we'll start from there. Anyway, I saw PS4 at the Taipei Game Show yesterday, even though it's still not being sold in Japan yet… (laughs). I think it's a very fine piece of hardware, and it really motivated me."
Hatsune Miku Project DIVA F 2nd is due out for PlayStation 3 and PS Vita in Japan on March 6.