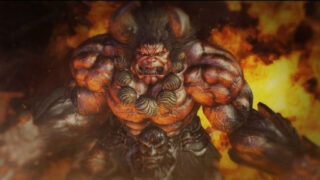 Toukiden, Tecmo Koei and Omega Force's new hunting action game, will launch in Japan on June 27 for 6,090 yen on PS Vita and 4,800 yen on PSP. Download versions will cost 5,400 and 4,500 yen, respectively.
A special edition PS Vita bundle is also being planned. For 24,829 yen (or 26,070 yen with tax), the "Onigara" bundle will include a Toukiden-branded PS Vita, a copy of the game, a download code for the Issun-boshi mitama (soul), and your standard PS Vita cables and accessories.
Pre-order bonuses for the game include download codes for the Momotaro and Yae Niijima mitama.
A PS Vita demo for Toukiden will be released this coming Tuesday, April 2. If you pre-order the game, it's possible to use the Momotaro mitama in the demo. (They won't start being handed out until April 3, however.)
View images of the PS Vita bundle and new Toukiden screenshots at the gallery.