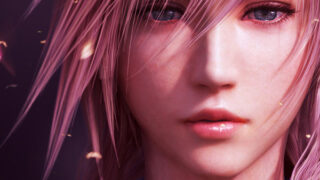 Square Enix has detailed its Penny Arcade Expo lineup. The publisher is bringing Tomb Raider, Hitman: Absolution, the now available Sleeping Dogs – all three of which will be playable on the show floor – and the celebration of Final Fantasy's 25th anniversary to this weekend's Seattle-based expo.
The Final Fantasy celebration begins on Friday, August 31 at 1:00 p.m. in the ACT Theatre at 700 Union Street. Fans will be able to reexperience their favorite Final Fantasy titles through "dozens" of playable units spanning "multiple generations," as well as participate in a series of commemorative activities. Prizes, including fan-favorite character plushies and Final Fantasy XIII-2-branded PlayStation 3s and Xbox 360s, will be awarded. Fans can also take their photo at a Final Fantasy-themed photo booth, and will be able to receive a special anniversary poster featuring artwork from Yoshitaka Amano.
At 5:00 p.m., Square Enix will host a "special content presentation" for Final Fantasy XIV: A Realm Reborn. And at 7:30 p.m., it will share a video message from Final Fantasy XIII producer Yoshinori Kitase, director Motomu Toriyama, and art director Isamu Kamikokuryo regarding the new direction of Lightning's story.
Additionally, Square will host a "Contracts Mode"-focused Hitman: Absolution panel on Sunday, September 2 from 3:00 to 4:00 p.m. at the Unicorn Theater.