Atelier Ayesha screenshots
Odileia, Kyle, and Tanya introduced.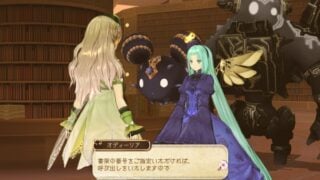 The latest set of Atelier Ayesha: Alchemist of the Ground of Dusk screenshots introduces three new sub-characters.
Odileia (Age: ??, Blood: ?, Height: 157cm, Occupation: Library Mistress) – an Automata, or mechanical doll, and librarian at the library of alchemy, which is filled with books on alchemy for Ayesha to read. Because she is an automata, she speaks in a poor mechanical tone and her emotions have ups and downs.
Kyle Tarenbert (Age: 26, Blood: A, Height: 165cm, Occupation: Bartender) – the bar master at the Horn Heim tavern, where the people of the city gather and discuss information and rumors. He is a good listener and considerable person.
Tanya Folta (Age: 11, Blood: A, Height: 154cm, Occupation: Salt Miner) – lives with her family in the salt fields of the region's farthest reaches. She longs for life in the city.
View the screenshots at the gallery.