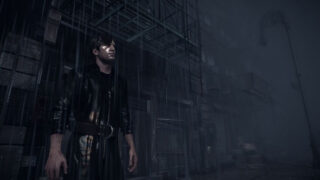 This is not your average Silent Hill.
Being an avid Silent Hill fan, I was very anxious to see Downpour in action at E3. As a fan of the franchise, I could only hope that series newcomer Vatra Games could put out a well designed title which not only plays well, but is true to the series.
After my preview, it was safe to say that Silent Hill fans need not worry. The series is in good hands.
As the demonstration kicked off, we were told that Silent Hill: Downpour is a return to the series' roots. The story of Silent Hill is about the town of Silent Hill as a character. In previous installments, the story had focused on the cult that had lived in the town, an angle Vatra wishes to eliminate. Downpour focuses solely on the town of Silent Hill, as well as the psychology of the protagonist, Murphy Pendleton. We were told that there will be side quests, which allow the player to discover more about the town. That said, the player will have the freedom to travel wherever he wishes inside the spooky town at almost any given point.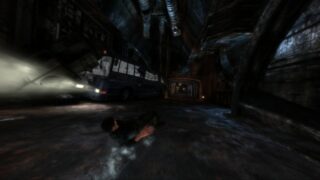 This is a Downpour slide
As technology has evolved, so does Silent Hill. Vatra has aimed at fixing the control scheme of the series in order to make the game a more enjoyable experience. The camera is set almost over the shoulder, however this can change in certain rooms, where the camera angle will be fixed, setting the player up for a scare or to ensure they sees something they shouldn't miss. Combat has also improved. Where combat in previous Silent Hill titles almost felt like a chore, Downpour ensures combat to be fun, but at the same time remaining both challenging and difficult (no more swinging that pipe just above a dogs head, like in Silent Hill 3).
As our demo began, Murphy made his way to the outskirts of town in, escaping his crashed prison bus. After the escape, he found himself in the town of Silent Hill. For the unaware, Silent Hill is its own character. The town attracts certain individuals who travel there, and then proceeds to give them the nightmare of their life. Monsters and creatures that roam the town are different in each game, and represent certain characteristics of a major individual in that game. In previous titles the town would also change itself to become somewhat linear, forcing the player to his next destination with almost no free exploration. However, in Downpour, the town is fully explorable and will not restrict you — for the majority of the game. In this section of the demo Murphy was on a somewhat linear path, leading him in and through the town. The demo offered a glimpse at some of the environments we could expect to see. The music does a fine job of distinguishing the environment as Silent Hill. Accept no substitutions. Broken down buildings, crippled fences and creepy forests never looked so good.
The demo soon cut to the "combat" portion. Starting out inside what appeared to be a run down kitchen, a fire started and Murphy screamed for help. We see the world transform into its famed otherworldly state, where everything starts to rust down and the environment resembles chain linked floors and walls. Murphy quickly put out the fire by activating the sprinklers, only to realize the room is flooding and there is an electrical box in the room that has gone haywire. If the water reaches the electrical box, Murphy would be shocked and die before his nightmare even began. Fortunately (or unfortunately), Murphy escapes. From there, he began exploring what seemed to be a hellish apartment building, or something similar. It wasn't very clear what the building was. Soon after, Murphy reached a room with a fixed camera angle, highlighting an area on one of the walls. The wall holds a switch, which activates a timed door that will close if Murphy doesn't hurry over to it. It was a simple puzzle, leading us into the next room, as an interesting enemy awaited. Again, it is not very clear what this enemy was, but it began to suck in the things around it. Perhaps a floating void, or a black hole, except it was decorated with colors of red and silver. Murphy had to run down the corridors of the building, knocking over cabinets, desks, and boxes in order to escape the floating void.
Soon after Murphy escapes, the demo cut to a portion of the game outside. Here, we are given a quick overview of combat with actual enemies. As Murphy was confronted with an enemy noted as a "Screamer," Murphy could pick up anything around him, and use it as a weapon. In Downpour, there is no weapon inventory, so you do not carry weapons on you except for those you pick up and hold. Murphy picks up a chair lying on the floor and proceeds to crack it over the creature's head. Combat is simple, and somewhat challenging. It was explained that you will not be able to take many enemies at once. One creature can be difficult, two is a danger zone, and if anything more, it's recommended that you run from fight altogether. The combat looked very much like its predecessors, Silent Hill 2 and Silent Hill 3. Though this time around, it has been tweaked and perfected so it draws the line between challenging and outright ridiculous.
Downpour is shaping up to be great. As a Silent Hill fan myself, and one who's played every game in the series, I have plenty faith in Vatra's take on the series, and I am positive that this game has the potential to redeem the franchise's recent bumps.
Silent Hill: Downpour is slated for a holiday 2011 release on PlayStation 3 and Xbox 360.