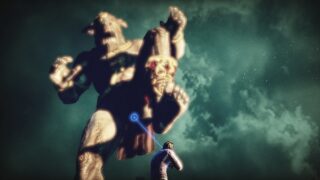 Hell isn't all human-sized minions, no. In Shadows of the Damned, Hell will not hesitate to toss a colossus or two your way. Or a serpent-wielding horseman. Or a six-eyed monster whose head looks like it should be a tall hat.
A new set of screenshots released today illustrates these enemies, most of which we assume are boss fights.
Shadows of the Damned is out June 21, 2011 for PlayStation 3 and Xbox 360. A dream team of Japanese developers are crafting the game, including Goichi Suda, of No More Heroes fame, and Shinji Mikami, of Resident Evil. Silent Hill composer Akira Yamaoka is making the music.
Check out the new screenshots at the gallery.