Rune Factory Oceans: first details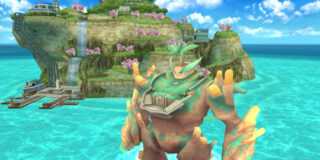 Following the game's announcement in Famitsu Weekly, Famitsu.com has gone live with a preview of Neverland's upcoming PlayStation 3 and Wii title, Rune Factory Oceans.
Rune Factory Oceans has players in control of both a male and female character who share the same body. They were originally separate, buth after Azel (male) and Sonia (female) were transported to the world of Rune Factory Oceans by means of unexplained events, they came to inhabit the same body.
Like previous Rune Factory titles, players will be able to form relationships. However, Sonia doesn't seem to appreciate when Azel gets too close to a girl, though. Jealousy, much?
Players will travel across the seas on a giant beast named Ymir. He's able to lift submerged islands and sunken ships from under the ocean blue. Once new islands are lifted, players will be able to farm on these new lands.
The game features a real-time battle system that allows Azel and Sonia to take on monsters. Using weapons like swords and hammers, players can perform combo after combo to defeat their enemies. Players will be able to upgrade their weapons using the game's synthesis feature.
Rune Factory Oceans is out for PlayStation 3 and Wii on February 24 in Japan; it'll cost 7,140 yen. The PlayStation 3 version of the game features Move compatibility, however, Famitsu doesn't provide details on how it'll work. The game is being produced by Yoshifumi Hashimoto and directed by Hosoya Ikeda. It's currently 80 percent complete.
The first images, taken from the PlayStation 3 version of the game, can be found at Famitsu.com. Of course, we'll have them in our gallery as soon as the high-res versions are released, likely sometime next week.
Additionally, the game's official site can be viewed here.
Thanks, Andriasang.