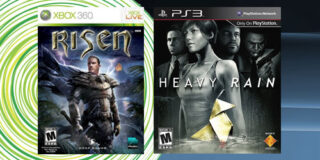 This coming week finishes off February with a bang — a very Heavy bang that is. Quantic Dream's Heavy Rain is finally releasing for PlayStation 3 after it's announcement at E3 2006 with the famous 'Casting' demo video as an unveiling.
Also on the release list are two RPGs, one for PS3, one for 360. The PS3 game is Last Rebellion, by NIS; the 360 game is Risen, from SouthPeak.
Read on for the full list.
PlayStation 3
Heavy Rain – SCEA, Quantic Dream (Feb. 23)
Last Rebellion – NIS America, Hit Maker (Feb. 23)

Sonic &
Sega
All-Stars
Racing
– Sega,
Sumo Digital
(Feb. 23)
Xbox 360
Risen – SouthPeak Interactive, Deep Silver (Feb. 22)
Sonic & Sega All-Stars Racing – Sega, Sumo Digital (Feb. 23)