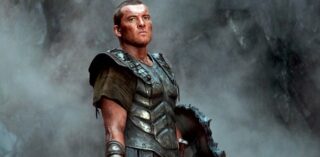 Namco Bandai's officially announced today that Clash of the Titans, the video game tie in of the upcoming movie being developed by Game Republic, will debut in Spring 2010 alongside the movie. The game was originally announced alongside Enslaved (Ninja Theory) and Majin: The Fallen Realm (Game Republic) at GamesCom this year.
As many of us have experienced, games based off movies aren't always so appealing. Namco Bandai promises "an unprecedented style of action–adventure game play", so you never know. We'll just hold them to that.
Clash of the Titans takes Greek mythology to the gaming world, immersing players in a battle between teh human race and the Greek gods Hades and Zeus. Two gameplay modes are available letting gamers play through Persus' adventure from the film or take on original bosses in a fresh new adventure.
The press release can be seen below.
NAMCO BANDAI GAMES AMERICA AND WARNER BROS. INTERACTIVE ANNOUNCE U.S. RELEASE OF CLASH OF THE TITANS
Epic Mythlogical Adventure Comes to Xbox 360® and PlayStation®3 system to Accompany the Global Theatrical Release

Santa Clara, Calif., (Oct. 9, 2009) – Leading video games publisher NAMCO BANDAI Games America Inc., and Warner Bros. Interactive, a division of Warner Bros. Home Entertainment Group, today announced that Clash of the Titans for the Xbox 360® video game and entertainment system from Microsoft and PlayStation®3 computer entertainment system is slated for U.S. release in spring 2010. Developed by Game Republic, the robust action-adventure title launches in conjunction with the worldwide theatrical release of Warner Bros. Pictures' and Legendary Pictures' feature film "Clash of the Titans" starring Liam Neeson, Sam Worthington and Ralph Fiennes.

"Clash of the Titans is a truly iconic entertainment experience," said Todd Thorson, director of marketing and public relations at NAMCO BANDAI Games America. "Bringing the re-imagined movie to life in an interactive adventure with Warner Bros. Interactive promises an unprecedented experience for video game and movie fans alike."

Set in the timeless grandeur of Greek mythology, Clash of the Titans immerses players into the epic battle for dominance between the human race and the powerful gods Hades and Zeus. Through vast landscapes of swamps, mountains and the underworld, two modes of play let players embody Perseus' adventure from the film, or take on original new bosses in fresh, dynamic adaptations of one of the greatest mythological stories ever told.

An unprecedented style of action-adventure game play will arm players with an ever-changing arsenal of weapons and powers. Players can journey solo or team up with friends to complete quests as they encounter a roster of legendary villains including Medusa and the sea monster known as The Kraken.

For more information on the game, please visit www.namcobandaigames.com.