HYENAS reveals playable character Hero-Ki
Inspired by SEGA's beloved mascot.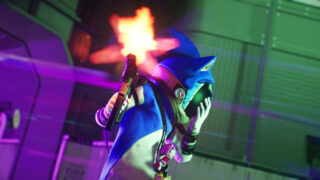 Publisher SEGA and developer Creative Assembly have released a new trailer for chaotic extraction shooter HYENAS introducing playable character Hero-Ki.
Here is his character description, via SEGA:
Hero-Ki was a minor celebrity back on Earth thanks to his cosplay and charity work but after being evacuated to The Taint, he's had to turn those same skills towards more nefarious pursuits. Armed with a specially modified camera to capture a target's likeness and cosplay as them, Hero-Ki can use his penchant for disguise to evade threats and exploit the environment in HYENAS, as only the sharpest-eyed rival will be able to detect the clues that reveal him as an imposter.

Hero-Ki takes his place among the other Hyenas which include specialists like the uzi-wielding ballerina Prima and foam-gun packing astronaut Commander Wright, with more character reveals still to come.
The next alpha test for HYENAS will begin on March 24 at 10:00 a.m. PT / 1:00 p.m. ET. Users can sign-up to participate at the game's official website. Hero-Ki will be playable during the alpha test on both Plundership maps (the New York-themed "We Took Manhattan" and the 80s-inspired "Greed is Good").
HYENAS is in development for PlayStation 5, Xbox Series, PlayStation 4, Xbox One, and PC (Steam). A release date has yet to be announced.
Watch the new trailer and new gameplay footage below.
Hero-Ki Trailer
Zero-G Gameplay